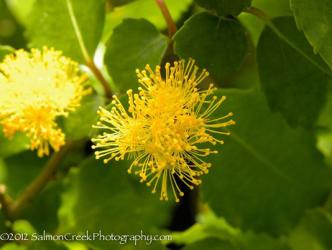 The shiny evergreen leaves are toothed, as the name implies, but that is hardly their most interesting feature. This handsome Chilean native bears paired dark green leaflets plus a unique shingle-like layer of tiny round leaves. Growing in a graceful somewhat open manner, extended arching branches host bountiful golden yellow blooms—clustered, fluffy, round starbursts—which exude a sweet fragrance, delighting all garden visitors, especially butterflies and hummingbirds. Exemplary as a verdant backdrop, screen or informal hedge, fast growing A. dentata tolerates redwood roots, responds well to pruning, relishes adequate drainage and requires protection from hot afternoon sun and cold winds.
Blooms March–May
Size: 10' 0" – 16' 0" high x 8' 0" wide.
Hardy to zone 8.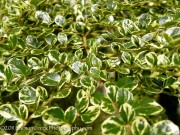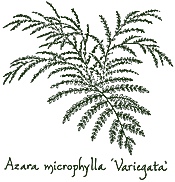 While the species hails from Chile, Azara 'Variegata' originated in Ireland and everything about this evergreen shrub is elegant. Its dainty dark green gleaming leaves are rimmed by broad alabaster margins as they cloak sprays of graceful downward-arching branches. Achieving a unique herringbone look, the diminutive leaflets feature smaller, overlapping leaves at their bases and in early spring, tufted flowers laden with the heavenly sweet whiff of vanilla. Slowly growing into a large specimen that emphasizes sophisticated texture and pattern, especially when superimposed against a wall, it begs a sheltered west or south facing site, sulks in hotter climates and can easily be pruned to fit just about any other garden spot.
Blooms March–April
Size: 13' 0" high x 9' 0" wide.
Hardy to zone 8.