Including Calamagrostis & Carex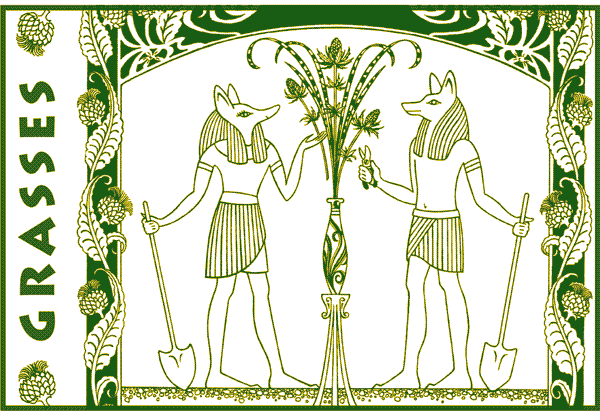 One of the most exciting trends in contemporary American landscaping is the recent availability of a wide variety of ornamental grasses. Grasses offer more than longevity and low maintenance: they bring movement, fall and winter pizzazz, lush volume, texture and line, and even sound, to any situation. The design possibilities are mind-boggling!
Plant grasses for a stunning effect in groups by themselves, with wildflowers for a stylized meadow, as a transition area between surrounding fields or woods and the garden proper, or be even bolder and bring some into the perennial bed for vertical excitement. Think of them as shrub substitutes for hedges and semi-transparent screens, as specimens to contrast with rocks and boulders, and by all means, place a few at water's edge. Show grasses to best effect by backlighting, so that every tiny seed and hairlike filament seems illuminated from within. Ornamental grasses are simply unbeatable fresh or dried in arrangements, with flowers or by themselves.
To prevent rotting during the rainy season, plant ornamental grasses high enough to ensure drainage away from the base of the plant. Wait until late winter or until they no longer look great, then shear ruthlessly to 4 or 6 inches. Divisions are necessary at least every three years. Once established, many grasses will reward you by being drought and heat resistant.
Please note some of the given bloom times have been extended beyond the actual flowering period to include the interesting dried effect of the inflorescences in winter.
View a slideshow of plant images from this page
Grassy-Leaved Sweet Flag
Named for the pleasant pine-like fragrance emanating from its dapper semievergreen fans, Acorus is actually not a grass, but rather a grassy-looking herbaceous perennial. This deer-resistant Asian denizen eventually forges a dense trouble-free ground cover of waxy, upright flattened blades that grow from slow-creeping rhizomes. Recently included in the Acoraceae family and once used as an aromatic addition to gin, beer and perfumes, it craves consistently moist soil, flourishing in both boggy situations and even shallow standing water.
The adorable fine-hewn tufts of lustrous, curved yellow-green blades impart a lambent pixie-like charm, while wafting a sweet scent. Happiest in moist niches with protection from hot summer sun, this easily grown diminutive perennial can be nestled between contrasting dark steps, cozied alongside smaller rocks or tucked into pint-sized patio containers.
Blooms May–June
Size: 3" high x 5" – 15" wide.
Hardy to zone 5.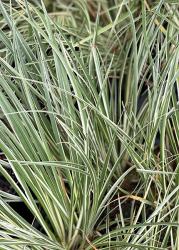 Neat alabaster-striped margins jazz up 'Variegatus's slim linear leaf-blades. An undemanding, redolent moisture-lover, the rounded, glossy Iris-like clump makes a lively low growing addition to damp shady borders or water's edge.
Blooms May–June
Size: 8" – 12" high x 18" – 2' 0" wide.
Hardy to zone 5.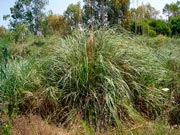 A Mediterranean denizen, this stately grass yields fine textured evergreen blades tough enough to fashion ties, ropes and baskets, and large enough to make an imposing focal point in your mixed border. Lofty upward arching stems race skyward, asserting mostly one-sided pearl-colored panicles above a dark green clump-forming mound, while airy purple-flushed inflorescences invite birds and gardeners alike. Robust Rope Grass maintains its majestic composure throughout the winter and requires a sheltered, sunny position with well-drained soil.
Blooms July–November
Size: 9' 0" high x 3' 0" – 4' 0" wide.
Hardy to zone 8.
This large cosmopolitan genus gleans its name from the Greek word pogon, or beard, alluding to the lustrous hairs that blanket the inflorescences. Closely associated with Schizachyrium, 13 clump-forming warm season Andropogon hail from North America. Many of the garden-worthy Beardgrass are often drought tolerant, and generally characterized by attractive, easily grown sturdy demeanors, late summer blooms plus stunning autumn color.
Gamma Grass
Bearing the name of two Spanish botanists who were siblings, Claudio and Esteban Bouteloua, these intriguing warm season perennial grasses have an aesthetic appeal and an historic past. Integral elements of the famed North American short grass prairies, otherwise called the Great Plains, Bouteloua are steadfast natives that belong to a large 40 member strong family, extending from Canada to Argentina.
Each $9.50
PREORDER FOR SPRING 2024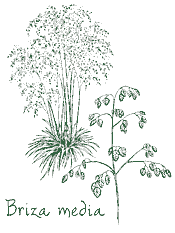 People delight in this Mediterranean native, and its playfully noisy nature has earned it amusing names like cowquakes, didder and dillies; it earns "Rattlesnake˝ for the rattle-like, heart-shaped inflorescences. On slim swaying stems, the small flowers emerge a sparkling green highlighted with red, and dry to a light straw color. Finely textured medium green blades form dense, long-lived evergreen clumps, and forgivingly put up with wind, drought and salt spray.
Blooms April–June
Size: 2' 0" high x 12" wide.
Hardy to zone 4.
Extremely durable, undemanding and hearty, this all-purpose clump-forming grass delivers arresting accents to any garden setting.
Sedge
A diverse genus comprised of nearly 1000 species, most Carex originate in the moist habitats of temperate climates. Easily grown, our winning selections produce a variety of different colored leaves that promise to soften those sharp edges in your garden.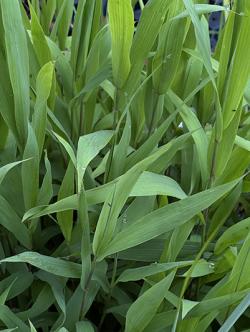 A versatile performer, clump-forming Wood Oats calls the American Southeast its home. Whether surging upright in a sunny spot, or growing more relaxed in a shadier location, the bamboo-like rich green foliage makes a pendulous foil for its prized flowers. Bearing a resemblance to oats, pale green spikelets dangle on slender arching stems. As autumn arrives, the showy inflorescences turn a reddish bronze, while broad blades are set aglow with a vibrant gold. Paling to light salmon, the flowers stay intact through winter and are lovely when frosted with snow. Sultry and verdant, this warm season grass brings captivating detail to the border or an arrangement, handles salt spray, and even endures dry soil in dappled shade.
Blooms July–August
Size: 3' 0" – 4' 0" high x 2-1/2' wide.
Hardy to zone 5.
Native to the cliffs and rocky outcrops of New Zealand's North Island, this graceful long-lived grass develops a glossy green tussock. Creamy-silvered plumes elegantly drape on lax stems above the cascading, loosely arranged evergreen foundation. Enduring drought and various soil types, Chinochloa flavicans' adaptable habit can stand alone or be planted in multiples to create a fluid-looking swath that looks especially impressive on slopes.
Blooms July–August
Size: 3' 0" – 4' 0" high x 3' 0" – 4' 0" wide.
Zone 7/8.
A rarely cultivated New Zealand denizen, this long-lived evergreen grass promises a graceful appearance. The lanky slender blades forge compact tawny-green tufts beneath persistent silver-laced panicles that roost upon pliant, tall arching stems. Well-suited for massing or as a stand-alone specimen, Chionochloa rigida's shimmering inflorescences can linger with other carefree companions such as Euphorbia 'Bruce's Dwarf' or Phlomis tuberosa.
Blooms June-August
Size: 3' 0" high x 0" – 8" wide.
Hardy to zone 5.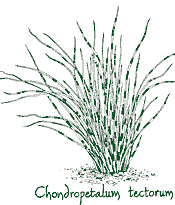 This long-lived plant belongs to the Restionaceae, a family of rushlike evergreens from the Cape region of South Africa. Papery chocolate-brown bands and long lasting dark brown seed heads contrast with the wiry, deep green stems and small greenish inflorescences. Ideal for low maintenance gardens, this sculptural beauty is hardy to 20° and prefers sandy, well drained soil and dry summers. It has also, however, withstood our wet winters.
Blooms September–October.
Size: 5' 0" high x 5' 0" – 7' 0" wide.
Hardy to zone 9.
Tufted Hair Grass
An easily grown, durable cool season grass, Deschampsias hail from the temperate regions of North America, Europe and eastern Asia. Wispy seed heads stretch in airy fans above finely-cut deep green tufted clumps, lending a delicate hazy quality that is put to best effect by planting en masse against a dark or solid backdrop. They can enhance woodland peripheries, moist meadows and perennial borders plus fresh or dried arrangements.