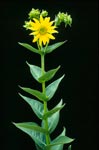 Bursting with optimism, this grandiose Midwestern native and Sunflower relative pushes a colony of stout and singular, erect stalks skyward. Coarse textured, rough-hewn lanceolate leaves march up purple-tinged stems, which branch out near their tops to deliver vivacious, 3 in. wide yellow daisies late in the season.
Beloved by songbirds and butterflies, long blooming and undaunted by heavy clay, Silphium integrifolium is undeniably tough and well suited for natural areas or borders alongside tall perennials such as Phlox 'David' or Salvia 'Blue Ensign'.
Blooms August–September.
Size: 4' 0" – 6' 0" high x 2' 0" wide.
Hardy to zone 5.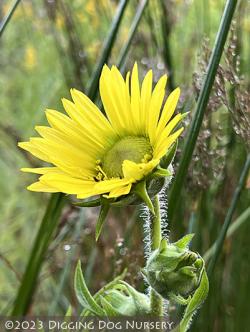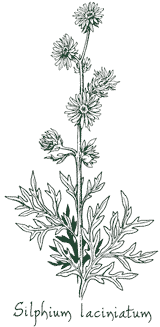 Widely distributed throughout our Midwestern tall grass prairies and once considered a life-saver for lost pioneers, this formidable sky-high perennial wields uniquely chiseled, up to 18 in. long basal leaves, which orient themselves on a north-south axis. Historically crafted into chewing gum by Native Americans, stiff bristly towering stems emit a bitter resin, while large white-haired foliage is cut nearly to the midrib, resembling a Pin Oak leaf. Along the upper reaches of thick stalks, a galaxy of huge, 5 in. wide sunflower-style blooms with yellow rays, yellow centers and hairy-edged green bracts make an exuberant summer long appearance. Employed as a bold coarse-textured backdrop in cottage gardens, wild flower plantings or mixed borders, its imposing colorful stature lures bees, butterflies and many a gardener.
Blooms July–September
Size: 5' 0" – 8' 0" high x 18" – 2-1/2' wide.
Hardy to zone 3.
Limited to regions of Alabama, Tennessee and Georgia, this charming American Aster relation asserts a compelling architectural presence. The large, lance-shaped green basal leaves, some 10-15 in. long, sporting fine textured, dense bristly hairs, decrease in size as they ascend strong, branched fuzzy stems. Adored by birds, bees and butterflies, plentiful slightly fragrant clusters gather 2 in. daisy-like pale yellow flowers that afford a long, late season hurrah. Known to be peppered amid Liatris and Baptisia in Pennsylvania's renowned Chanticleer garden, clumping S. mohrii makes a topnotch addition to perennial borders or naturalized plantings, where it craves a moderately dry rocky spot with low fertility and good drainage.
Blooms July–October
Size: 2' 0" – 5' 0" high x 2' 0" – 3' 0" wide.
Hardy to zone 5.