Prairie Mallow
Indigenous to western and central North America, these easily grown Mallow family members are adored for their 5-petaled Hollyhock-like blooms that embellish terminal racemes above a basal clump of attractive toothed greenery. Well-drained sites, cool summers, shelter from strong winds and a fall cutback ensure their prosperity, while hot humid weather makes them sulk.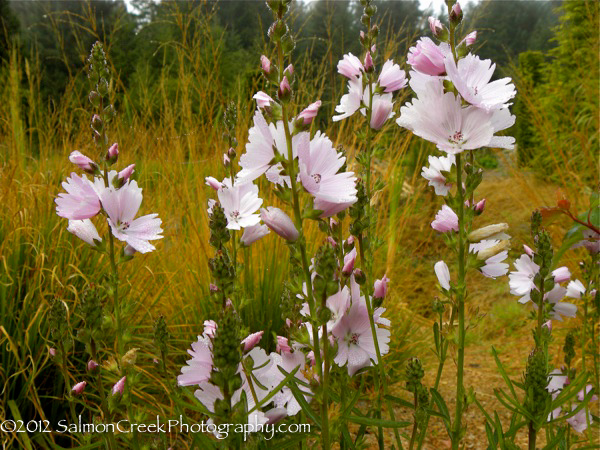 'Elsie Heugh' is a well-loved old favorite, whose popularity has never waned and for good reason. Easygoing, best en masse and equally at home in a cottage garden or a more formal border, this distinctive Hollyhock relative presents fringed shell-pink blooms with a silky luster. The lovely, 5-petaled Mallow-like blossoms are borne on erect, stately branching spikes above a good-looking green basal clump of round, shallowly lobed leaves that become smaller and more fingered as they ascend the flowering stems. Provide a fertile loamy soil and cut back after blooming to promote a flowery encore.
Blooms July–mid-September
Size: 2' 0" – 3' 0" high x 15" wide.
Hardy to zone 5.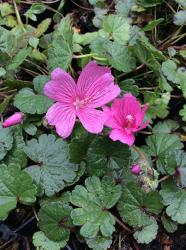 While California's native Sidalcea malviflora roams our wild grasslands, this vigorous evergreen selection can endow your garden with Hollyhock-like blooms atop thick, scalloped dark-hued greenery. The close-knit carpet-like habit manifests a bevy of butterfly-friendly cup-shaped deep rosy-pink flowers that unfurl all summer long. Abiding dry conditions as well as gophers, Checker Bloom makes a handsome small-scale ground cover for meadows, borders or coastal plantings and looks its best when watered moderately.
Blooms June–mid-September
Size: 6" – 10" high x 12" – 2' 0" wide.
Hardy to zone 6.