Prized by gardeners and pollinators for their bounty of endearing pincushion-like blooms that unfurl from spring 'til frost, our Scabiosa offerings tout a trouble-free habit with fetching finely-divided foliage that thwarts deer and enjoys fertile, somewhat limy, well-drained niches.
Each $9.50
PREORDER FOR SPRING 2024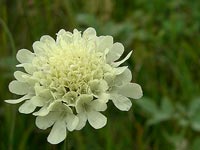 With charm to sway, this undemanding Scabiosa celebrates a seemingly endless supply of pincushion-style flowers in hushed lemon shades. Finely dissected gray-green foliage furnishes a tasteful, soft-looking tuft from which wiry branched stems arise. A first-rate cut flower, the carefree display is heightened by intriguing etched green buds, and happily lends itself to a cottage garden or a more natural setting.
Blooms July–September
Size: 2-1/2' high x 3' 0" wide.
Hardy to zone 5.
Discovered during a 1997 Great Plants of Nebraska expedition in the mountains of Inner Mongolia, this easily grown cultivar promises spectacular flowers plus untold vigor. The refined textural mound of elliptic to oblong-shaped deep green basal leaves unleashes exceptional purple-blue pincushions alighting firm 18 in. stems. Adored by butterflies but not deer, 'Mongolian Mist's elegant profile can grace well-drained borders, pollinator gardens, rockeries and bouquets.
Blooms June–September
Size: 12" – 18" high x 12" wide.
Zone 3b/4.