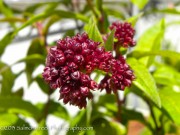 Beloved by bees, butterflies and hummingbirds, this lush Central and South American member of the Potato family has a colorful allure nearly all year round. Arching stems coated with mahogany-colored fuzz carry profuse nodding clusters of waxy, deep red tubular flowers plus purplish red berries dramatically set amid burgundy-tinged leaves, which are soft as velvet and taper to a point. A vigorous tall-standing evergreen shrub that's well-suited for a container, 'Newellii' blooms summer through winter and in some instances much longer. Red Cestrum appreciates moderate moisture, a protected wall or overhang, partial shade on hot afternoons and a light to heavy pruning to maintain its shape.
Blooms May–November
Size: 6' 0" – 8' 0" high x 3' 0" – 5' 0" wide.
Hardy to zone 9.
An irresistible mecca for bees, hummingbirds and designers, copious loose bouquets of tubular ocher and orange-colored blossoms with yellow star-shaped tips unfurl from early spring 'til frost, exuding unbeatable ebullience and a sweet scent at dusk. The appealing, deer-resistant Ligustrum-style foliage plus long, fast developing, woody stems remain evergreen in Zone 8b, but become deciduous and temporarily die back in colder locales. Related to potatoes and easy to cultivate, this heat-loving Cestrum diurnum and Cestrum nocturnum hybrid sprouts a billowing, multistemmed bearing that can be ensconced in containers, espaliered against sheltered walls and staged either singularly or massed in well-drained mixed planting schemes.
Blooms June–October
Size: 6' 0" high x 4' 0" wide.
Hardy to zone 7.