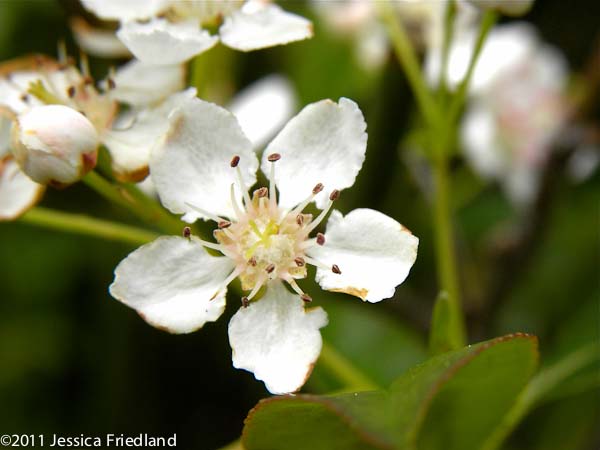 A versatile North American native originating in Morton Arboretum, this small-statured deciduous shrub proposes something exceptional for each season: fragrant spring flowers, courtly summer foliage, brilliant fall color and persistent winter berries. Flaunting an autumnal pageant of stunning red, burgundy and purple hues, lustrous, deeply green, thickened leaves garb the compact, dense multitude of suckering stems. Airy, Hawthorne-like flowers gathered in white, 2 in. wide, eye catching corymbs precede the heavy clusters of polished purple-black berries that gracefully weigh down branches and bring color to gray December days.
Obliging of low-lying wet areas, dry sandy sites and some shade, easy-to-grow 'Iroquois Beauty' thrives in full sun and can reside with equal ease in a small garden, a mixed border or a naturalized setting when planted en masse.
Blooms April–May.
Size: 3' 0" high x 3' 0" wide.
Hardy to zone 3.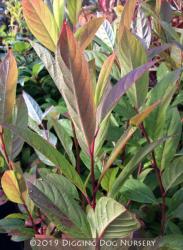 Deemed one of the best cultivars in the genus, this small trouble-free European introduction was destined to be a orchard plant until gardeners discovered its innate beauty and various merits. Glimmering amid glossy dark green foliage, abundant scented white flowers are followed by lustrous extralarge purplish black berries, which make tasty nutritious additions to pies and jellies, and remain throughout the winter as fodder for the birds, especially early spring-feeding robins. 'Viking's pleasing deciduous profile blazes with vivid red autumn leaves and seldom needs pruning, plus it withstands drought and most pests.
Blooms April–May
Size: 3' 0" – 5' 0" high x 3' 0" – 5' 0" wide.
Hardy to zone 3.