Prized for its larger-than-average glossy purplish blue fruit, impressive cold hardiness and superb ornamental aspect, this versatile western and central North American denizen grows as a large multistemmed shrub or small, branching deciduous tree. Clustered self-fertile white flowers muster a sweet smell amongst handsome gleaming dark green leaves that signal autumn with orange and crimson shades. Adored by culinary buffs and wildlife alike, the nutritious sweet juicy berries are cultivated commercially in Canada, while 'Smokey's medium-sized upright and spreading habit makes an undemanding pollinator-friendly specimen in smaller gardens, edible landscapes, woodland peripheries and mixed borders. Medium Band.
Blooms April–May
Size: 10' 0" – 12' 0" high x 8' 0" – 10' 0" wide.
Zone 3/4.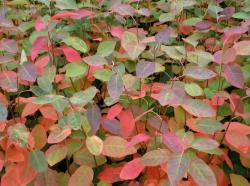 Perfumed clusters of spectacular white flowers, succulent purplish black berries, dazzling orange-red fall color and excellent disease resistance assure 'Autumn Brilliance's ticket into your landscape. A small, multitrunked shrubby tree, this Serviceberry is the prized hybrid between two deciduous North American species, Amelanchier arborea and Amelanchier laevis, which Illinois' Bill Wandell selected in 1986. Handsome, fine-toothed, oval-lanceolate leaves, bronze-tinged when young, line its upright, closely arranged branches. Delectable to both people and birds, the small fruit can be added to jams as well as pies, tasting a bit like blueberries with subtle almond notes. It favors moderate moisture, abides most well-drained sites and makes a compelling understory tree for shrub borders, woodland peripheries plus informal screening or hedging. Large Band.
Blooms April
Size: 15' 0" – 25' 0" high x 15' 0" – 20' 0" wide.
Hardy to zone 4.