Gift Cards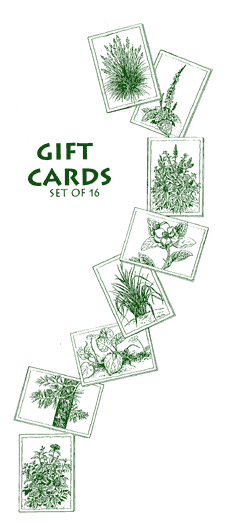 Marsha Mello's elegant drawings have graced the pages of our catalog for years. Now, they also decorate these note cards, providing an artful communiqué for plant lovers. Each set of 16 is tied with sisal and includes matching envelopes and 2 copies each of 8 distinct drawings. Printed in dark forest green ink on cream card stock.
4-1/2" x 6-1/4"; price includes shipping and handling.
Gift card set (N-1001), $24.95 each
Marsha has done our logo, cover, and plant illustrations for over 14 years, but she is also a printmaker, selling her detailed etchings in galleries on the Northern California coast and at the Monterey Bay Aquarium. Her prints are done in the age-old intaglio style: hand-drawn on copper plates, individually inked and printed on a press, then signed and numbered. Printed on good quality archival paper, each etching is mounted on foam-core board and wrapped in acetate for protection. There is a description of the etching process on the back, along with a Certificate of Authenticity. These plant etchings are limited editions of 100 prints each.
Etchings
Clematis Macropetala Etching
Image size: 4-½" x 6"
Wrapped size: 8" x 10"
SOLD OUT!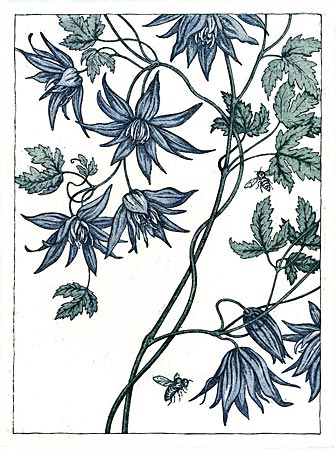 Orchid Etching
Image size: 3-½" x 8-½"
Wrapped size: 7" x 12"
SOLD OUT!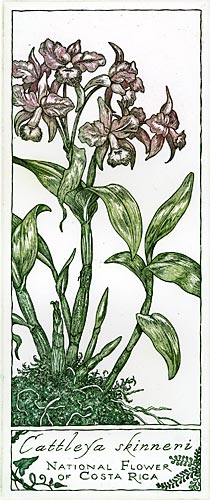 Papaver Orientale Etching
Image size: 4-½" x 6"
Wrapped size: 8" x 10"
SOLD OUT!