Beloved by hummingbirds, butterflies and gardeners alike, the lushly-colored burst of clustered funnel-like reddish magenta blooms showcases sunny-yellow throats plus a light fragrance. Glistening, elliptic to obovate-shaped dark greenery garnishes this diminutive old-fashioned deciduous shrub that develops an attractive compact rounded habit imbued with alluring cozy bronzy-purple shades. Tackling most foliar diseases, cold winters and clay soil, 'Minuet's undemanding mien lends prismatic accents to foundations, mixed borders, massed plantings or hedges.
Blooms May–June
Size: 2' 0" – 3' 0" high x 3' 0" – 4' 0" wide.
Hardy to zone 4.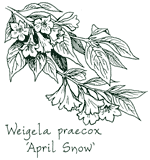 Originating from seed collected in northern China's Wutai Shan mountains by Bluebird nursery owner, Harlan Hamernik, this seldom offered fragrant Weigela flaunts a snowy avalanche of clustered pure white tubular blossoms. The graceful pendent spring flowers illuminate pointed medium green glabrous leaves plus entrance hummingbirds and other garden visitors. Tidy, undemanding and well-mannered, aptly named 'April Snow' is ideal for mixed borders, foundation plantings and deciduous summer-time screens. (pp#20,006)
Blooms April–May
Size: 6' 0" high x 4' 0" – 6' 0" wide.
Hardy to zone 4.
The 'wine' is the glossy burgundy and purple foliage highlighted by lime-green midribs. The abundant 'roses' are red in bud, eventually becoming pink beauties that provide a stunning contrast to the leaves, and are great in cut arrangements. This truly superior cultivar holds its exquisite leaf color when other species will not, the rich shade intensifying as autumn approaches. (pp#10,772)
Blooms May–June
Size: 4' 0" – 5' 0" high x 4' 0" wide.
Hardy to zone 5.