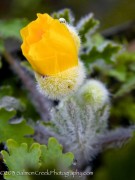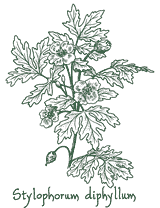 Brimming with charm, this showy undemanding wildflower is a sterling choice for naturalizing in a moist, lightly shaded locale. Paired and gray below, the blue-green Oak-like leaves and silver-haired, green nodding buds foster a wealth of 2 in. wide, golden yellow poppy-styled blossoms atop 12 to 18 in. stems.
Native to the eastern United States, the esteemed Celadine Poppy forms a long-lived, versatile leafy colony that may go summer dormant under dry conditions. It easily adapts to the shadows of a woodland or a more formal garden border, mingling amidst Asarum, finely cut Dicentra and Tiarella, while curious saffron-colored sap and fuzzy, 4-parted seed pods add intrigue.
Blooms March – April.
Size: 8" – 10" high x 2' 0" wide.
Hardy to zone 4.