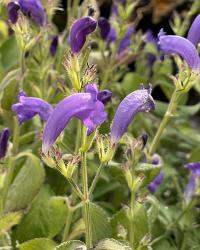 Indigenous to Nepal and, sadly, seldom cultivated, this soft-looking bushy perennial furnishes legions of fetching Salvia-like blue-violet flowers, glistening cone-shaped purple buds and fuzzy, drip-tipped foliage. The curved, vividly colored blooms populate dense, late season terminal spikes for several months, while winsome green leaves cloak square, well-branched pubescent stalks. Happiest in bright shade with good drainage plus adequate moisture, Strobilanthes attenuata's easy-care low mounding habit and large tubular blooms impart cool, composed summertime hues that set off perennials such as Crocosmia 'Paul's Best Yellow' or Anemone 'Wild Swan'.
Blooms August–October
Size: 2' 0" – 2-1/2' high x 2' 0" – 3' 0" wide.
Hardy to zone 9.