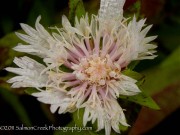 Named to honor the 18th century taxonomist, Dr. Jonathan Stokes, Stokesia is beloved by butterflies, tolerates heat, and appreciates a well-drained, sandy loam with ample moisture and winter mulch in colder climates.
Parading its Cornflower-like snowy white blossoms, this perfect-for-cutting Stokesia casts crisp luminous accents wherever it's planted. Launched from a deep green and evergreen rosette of lance-shaped alternate leaves on long petioles, the stiff upright multibranched stems give way to fluffy blooms described by two rows of dainty ray flowers that eventually flush a light pink. The outer petals are deeply cut and surround a prominent pale central disc of intricately arranged, narrow tubular petals.
Blooms June – September.
Size: 18" high x 18" wide.
Hardy to zone 5.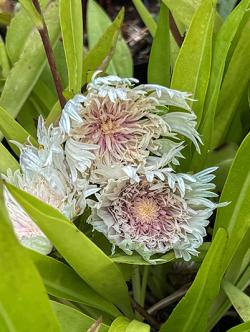 While the hard-working native can be found in the bottomlands and ditches of the coastal plain, extending from North Carolina to Florida and Louisiana, this nectar-rich, cut-flower-perfect cultivar can be welcomed into your garden. Each lovely 3 to 4 in. wide primrose-yellow blossom hosts notched rays and a pincushion-like center of feathered disk florets. The long-blooming fluffy pastel-hued spectacle tops erect leafy stems plus an evergreen rosette with pest-free lanceolate greenery. Undaunted by drought and heat, 'Mary Gregory' relishes sun, good drainage, moderate moisture and winter mulch in cold northern
locales.
Blooms June–September
Size: 12" – 18" high x 12" – 18" wide.
Hardy to zone 5.