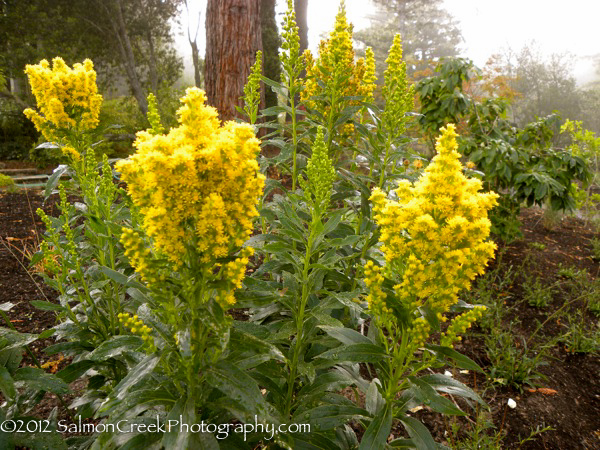 This cultivar should be called "finale," a more accurate description of the multitude of fluffy gol­den sprays on nearly horizontal flowering spikes that seem to burst from this lush green bushy perennial like sizzling skyrockets. Excellent interspersed with Asters, grasses and other meadow plants, this familiar eastern species is a real treat in gardens west of the Rockies as well
Blooms September–October
Size: 4' 0" high x 2' 0" wide.
Hardy to zone 4.
Discovered as a chance seedling in Eden, NC by Dr. Richard Lighty, this award-winning Mt. Cuba introduction is quickly making its way into gardens throughout the U.S. and further abroad. Toothed, heart-style green leaves define a compact, semievergreen basal rosette beneath stiff, multibranching stems adorned with a profusion of densely covered golden-yellow spires. Counting garden designers, florists plus Hairstreaks, Sulphurs and Skippers among its many fans, 'Golden Fleece's superb, low-growing bushy ground cover delivers long-lasting, radiant late season blooms and thrives in sunny, somewhat fertile well-drained sites, yet tolerates varied conditions.
Blooms August–October
Size: 18" – 2' 0" high x 2' 0" wide.
Hardy to zone 4.
Originally found in Oklahoma's rugged Wichita Mountains by nurseryman Steve Bieberich, this late-blooming, pollinator attractant is a splendid shining star at the acclaimed Lurie Garden in Chicago. Witness the tall, upright golden yellow wands beaming with tiny, tight set daisy-like blooms from late summer 'til the first frost, and you'll see why. Garbed in narrow medium green foliage, the attractive tough-as-nails habit withstands heat, drought, deer and clay soil, but demands adequate air circulation and sharply drained soil.
Blooms August–October
Size: 2' 0" – 3' 0" high x 2' 0" – 2-1/2' wide.
Hardy to zone 4.