This genus in the Iris family includes the familiar wildfloweres Blue-eyed Grass and Yellow-Eyed Grass.
Endemic to damp open woods, fields and slopes throughout the eastern and southeastern U.S., this unusual white blooming form of the more commonly known, Blue-Eyed Grass was kindly given to us by grass aficionado, John Greenlee. Perfect for cut arrangements, delicate 6-petaled starry blossoms with golden eyes illuminate attractive loosely arranged flower clusters rising on winged branching stalks. The neat foot long green leaves compose a compact Iris-like tuft that prefers well-drained sufficiently moist crannies, favors being divided every 2 or 3 years and looks best when massed in cottage gardens, native plant settings, border fronts and rockeries./p>
Blooms May–June
Size: 12" – 18" high x 6" – 12" wide.
Hardy to zone 4.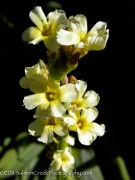 Native to Chile, this elegant member of the Iris family is notable for its creamy multitudes of pale yellow blooms; each is centered with a deep buttery colored eye, and the back of each petal has a pronounced purple stripe—hence the epithet "striatum." The slender flowering stems arise from erect, evergreen clumps of spiky green-gray leaves that extend to 18 in. Set off Yellow Blue-Eyed Grass with the dark, leafy foliage of Eupatorium 'Chocolate'.
Blooms June–July.
Size: 2' 0" high x 2' 0" wide.
Hardy to zone 7.