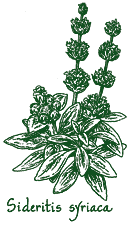 Endearing, yet rugged and a "cure-all" medicinal to boot, this plucky Cretan native should be welcomed into the dry, well draining crannies of your garden. Clustered small pale yellow flowers populate spaced whorls on short upright spires, which emerge from a dense low growing mound of slim gray foliage blanketed with downy soft, white hairs.
Nestle Sideritis syriaca between steps or rocks near other heat-loving plants such as Saponaria 'Max Frei', Origanum 'Bristol Cross', Lavenders and Santolina 'Nana'. Brew a tea from its leaves and blooms to boost your immune system, combat colds, reduce inflammation and soothe your nerves.
Blooms June – September.
Size: 18" high x 18" wide.
Hardy to zone 8.