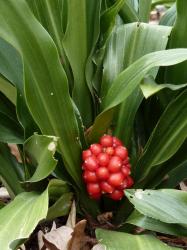 Tropical-looking and tenacious, this rare highly praised Asian perennial premieres slow growing vase-shaped rosettes of long strapping dark green leaves that maintain a textural presence year round. Unusual pineapple-like blooms appear on short stalks followed by brilliant red-orange clustered fruit, persisting through winter and dramatically offset wide, leathery up and outward arching evergreen foliage.
Reminiscent of a Hosta, Sacred Lily makes a handsome container subject or low maintenance ground cover, where it easily tackles deer, drought and deep shade.
Blooms June–July.
Size: 12" – 15" high x 2' 0" wide.
Hardy to zone 6.