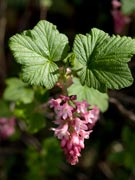 Flowering Currant
In Tudor times, to dream of the ripe fruit of a flowering currant was said to herald great fortune, many children and the accomplishment of your dreams. This choice woodland shrub is a vigorous and hardy cross between Ribes odoratum and Ribes sanguineum.
Its clusters of raspberry-red flowers, highlighted with creamy yellow throats, appear a salmon color at first glance and cascade gracefully amidst the lobed, toothed foliage. Plant atop a stone wall with an understory of Brunnera 'Langtrees', and watch the birds enjoy its black berries.
Blooms March
Size: 5' 0" high x 2' 0" – 3' 0" wide.
Hardy to zone 4.
Adorned with pendulous late winter clusters of richly colored scarlet-red flowers, well-mannered bare arching branches spawn palmately lobed medium green leaves in early spring. Following the fantastic long-lasting floral pomp, persistent green and bright red berries, which ripen to a frosted dark blue, heighten summer appeal and come fall, urbane finely serrated foliage broadcasts lovely amber, pink and golden tones. Introduced into the annals of British horticulture in 1817, 'King Edward VII's narrowly upright and compact carriage is easily managed, plus it withstands drought once established and effortlessly dominates a sunny mixed border or a bright woodland realm.
Blooms mid-February–early May
Size: 6' 0" – 8' 0" high x 4' 0" – 5' 0" wide.
Hardy to zone 6.