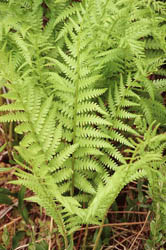 Celebrated as one of our choicest natives, the deciduous Cinnamon Fern is steeped in grandeur and calls every state east of the Mississippi its home. Urbane vase-shaped clumps spotlight gracefully arching lacy bright green fronds plus an extraordinary central showing of erect fertile cinnamon-hued spikes. Known to be a tasty meal for ruffled grouse and nest material for hum- mingbirds, Osmunda cinnamomea favors moist shady sites, handles more sun in cooler locales and looks best en masse.
Size: 3' 0" high x 3' 0" wide.
Hardy to zone 3.
Size: 2' 0" – 4' 0" high x 2' 0" – 4' 0" wide.
Hardy to zone 4.