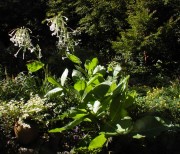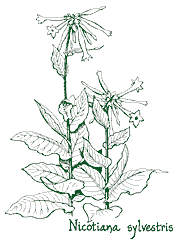 Discovered in Argentina around 1898, this striking ornamental tobacco plant is a perennial in warmer climates and an annual in cooler areas. Large, slightly sticky, bright green oval leaves grow on tall, upright stems, topped with drooping clusters of pendulous, intensely fragrant, long tubular flowers, which flare to five-pointed stars at the end. A dramatic presentation wherever it is planted, we show it off with Salvia 'Purple Majesty' and Euphorbia mellifera.
Blooms August–September.
Size: 5' 0" high x 2-1/2' wide.
Hardy to zone 8.