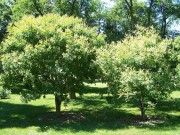 Honoring the 19th century Russian naturalist, Karlovich Maack, this handsome, yet resilient small-sized Asian native has championed four-season allure since it was first introduced in 1864. Five to seven silvery green deciduous leaflets define attractive locust-style compound leaves, which mature to olive green on a broad, slow growing rounded framework of stiff interlacing branches and lustrous curly exfoliating bark with warm coppery tan shades. Heightened by pale slate blue hues, fragrant porcelain-colored pea-like flowers densely populate the showy upright clustered racemes; flat brown 2 to 3 in. long pods follow.
An obliging easy-care specimen for lawns, patios, large vessels or sidewalks, the little-known Amur Maackia touts natty good looks, favors a sunny well-drained setting, and promotes beneficial nitrogen-fixing bacteria on its roots. Grows slow to moderately. Medium Band.
Blooms June/July.
Size: 20' 0" – 30' 0" high x 20' 0" – 30' 0" wide.
Hardy to zone 3.