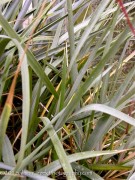 Luscious silvery blue blades—broad, highly glaucous, and upright and arching—distinguish this royal looking California native. Selected by the Santa Barbara Botanic Garden and found on Prince Island in the Santa Barbara Channel, 'Canyon Prince' grows into a dense, not-so-tall evergreen clump that yields slow spreading rhizomes and tightly clustered almond-colored inflorescences on straight stems.
Brimming with elegance and easy to cultivate, its unyielding fortitude shrugs off heavy soil, dry conditions and foraging deer.
Blooms July – August
Size: 3' 0" – 4' 0" high x 2' 0" – 3' 0" wide.
Hardy to zone 7.