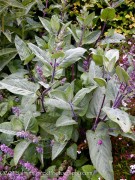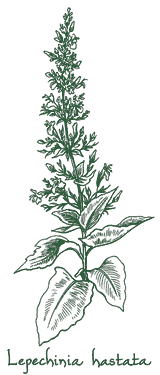 With a big-leaf tropical look that belies its rugged hardiness, this Hawaiian native belongs to the mint family and masquerades as a Salvia. Stiff, upright and fuzzy, the mauve-infused stems inject architectural pizazz, while sporting large, spade-shaped felted greenery. Smoky magenta-colored, openly arranged flower spires, some 12 in. tall, grace the spice-scented foundation. Known to possess antibiotic properties, Lepechinia hastata delivers late season fanfare, fends off deer, acquiesces to poor dry soil and temperatures as low as 0°, asking only for a well-drained abode.
Blooms August – October.
Size: 4' 0" – 5' 0" high x 2' 0" – 3' 0" wide.
Hardy to zone 7.