While the genus pays homage to Christopher Knaut, a German doctor and botanist, the species epithet refers to Macedonia on the Balkan Peninsula, where this undemanding pest-free perennial calls home. Knautia's attractive minimally-lobed green foliage plus charming domed blooms can be ushered into borders, cottage gardens and meadows. They enjoy cool summer nights, moderate moisture and neutral to alkaline soil.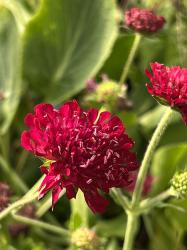 The deep crimson of this exciting cultivar's double 2 in. pincushion blooms is rare and intense. Shorter and more compact than the species, sturdy 'Mars Midget' generates curving stems, which branch into numerous flowering stalks and hold a seemingly endless supply of the extraordinary color above green basal leaves. Lively on its own, it's absolutely vibrant with Salvia 'Sweet Esmeralda', Geranium 'Nimbus' and Kniphofia 'Gladness'.
Blooms June–October
Size: 16" high x 20" wide.
Hardy to zone 5.
Introduced by Germany's Jelitto Perennial Seeds in 2019, this tidy nearly-evergreen perennial packs a punch of flower-power. Compact green basal rosettes and slim stems elevate boundless pompom-like mauve flowers that appear with unbridled abandon from summer 'til frost. Well-suited for wild-style haunts, cottage gardens and borders, 'Midget Mauves' beguiles bees, butterflies and floral artists, while its easy-care temperament appreciates sunny porous niches.
Blooms June–October
Size: 16" high x 20" wide.
Hardy to zone 5.