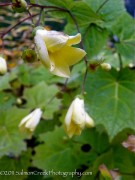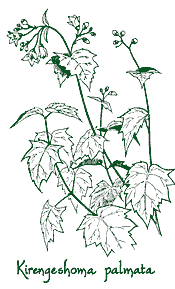 Native to the woods and mountains of Shikoku
and Kyushu, Japan, this perennial has broad and opposite Maple-like leaves and dark purple stems, which emerge in late spring and later highlight the pendulous, waxy yellow flowers plus glossy green and brown-streaked calyces. A lover of moist leafy soil, Yellow Waxbells work well in the woodland garden with Asarum, Astrantia and Rodgersia.
Blooms September–October
Size: 3' 0" high x 2' 0" wide.
Hardy to zone 5.