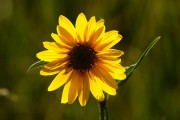 The clearest, brightest yellow, not at all pale and without a trace of gold, imbues the nearly 4 in. wide starry flowers of this willowy American native. Amazingly floriferous and versatile, the Aspen Sunflower is lower growing and earlier to bloom than its Helianthus counterpart.
Long, green and hirsute, straplike basal foliage blushes red come fall, while seed heads, waving on open branched sparsely leafed stalks, provide a banquet for the birds.
Originally collected in 1843 and dwelling throughout woodlands and stream sides from the "Aspen Belt" north to Wyoming and Montana, it will thrive in nearly any garden—semiarid or moist, sunny or a little shady—and makes a fine autumn bouquet with grasses and rosehips.
Blooms July – September.
Size: 3' 0" – 4' 0" high x 2' 0" – 2-1/2' wide.
Hardy to zone 3.