Bush Honeysuckle
Named after a French surgeon called Dierville who introduced the plant to Europe in the early 1700s, this small staunch genus counts Honeysuckle and Weigela among its cousins and calls the southeastern U.S. its home.
'Copper's vigorous, low mounding form makes a colorful statement with red-tinted stems, delicate lemon yellow flowers and opposite lance-shaped, deciduous green leaves that transmute copper shades when unfurling and red and purple hues come autumn.
Undeterred by varying soil pH and excessive moisture or drought, the highly enduring Bush Honeysuckle can serve as a honey plant, while underground stolons control erosion. It's the best choice for dry alkaline sites and looks attractive just about anywhere else.
Blooms June – August.
Size: 4' 0" high x 4' 0" – 5' 0" wide.
Hardy to zone 4.
Blessed with a Midas touch and copious nectar, this marvelous golden-hued Diervilla bears loose terminal clusters of 2-lipped tubular yellow blooms that mesmerize bees and butterflies. Masterminded by Dutch nurseryman William de Bruijn, 'Honeybee's attractive lance-shaped deciduous leaves promise gleaming accents for containers, mixed borders or along pathways, and chartreuse tones for shady nooks. The compact bushy habit touts a resilient and amenable constitution, appreciating well-drained sites, yet enduring poor soil, cold winters, occasional dry spells and either sun or shade.
Blooms May–June
Size: 3' 0" – 3-1/2' high x 3' 0" – 3-1/2' wide.
Hardy to zone 4.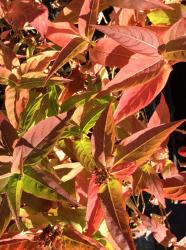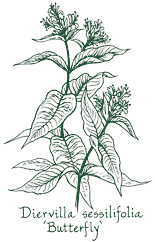 Named after a surgeon called Dierville, this impressive Dutch cultivar is a member of a small deciduous genus that moseys throughout the southeastern U.S. and counts Honeysuckle and Weigela among its kin. A magnet for hummingbirds and butterflies, upright terminal clusters house cheerful yellow flowers with recurved petals and sprightly stamens. The handsome lustrous leaves, characterized by tapered tips, newly unfurled bronze tones and mid-green summer-time hues, signal autumn in shades ranging from ebullient yellows to fiery reds. As if the bounty of sunshine-bright blooms, colorful tidy foliage and sturdy red-tinged stems wasn't enough, 'Butterfly's compact habit exhibits some dogged traits. It can stabilize hillsides plus thwart deer, drought and harsh winds, as well as endure varying sun exposures, poor soil or otherwise difficult sites.
Blooms May–July
Size: 3' 0" – 4' 0" high x 3' 0" – 4' 0" wide.
Hardy to zone 4.