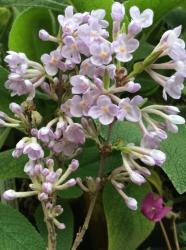 A striking deciduous selection made at the Beijing Botanic Garden by Don Hackenberry, this deer-resistant gem celebrates a lilac-like bounty of delicate tubular-shaped lavender pink blossoms on unique, long leafless sable gray stems. Every node of the wiry upright vigorous growth sprouts a breathtaking flower followed by handsome greenery with silken-haired undersides. Good drainage, acidic nutrient-rich soil and a little shelter from late frost ensures Daphne genkwa's singular beauty, while a permanent residence guarantees its survival.
Blooms April–early June
Size: 3' 0" high x 3' 0" wide.
Hardy to zone 5.
Named for the co-founder of Oregon's Siskiyou Rare Plant Nursery and applauded as the best dwarf hybrid Daphne, this pint-sized, sweetly perfumed evergreen is a cross between D. arbuscula and D. collina. Wafting an intoxicating spicy sweetness, clustered deep pink blooms open from purple buds upon narrow, firm, shiny dark green leaves. The dense slow growing mound can be nestled into the rockery, atop a stone wall, along steps or in containers. Favored by butterflies as well as gardeners, but ignored by deer, 'Lawrence Crocker's handsome low habit craves summer mulch, protection from harsh winter wind and evenly moist, well-drained niches with a neutral pH.
Blooms May–August
Size: 8" – 12" high x 0" wide.
Hardy to zone 6.
Coveted for its abundance of delectable light purple blooms, this mostly-evergreen chance sport was found growing on an individual Daphne odora 'Cameo' plant in Ashhurst, New Zealand. Pointed dark reddish purple buds herald the clustered tubular flowers that waft a heavenly sweet scent infused with carnation, jasmine and hyacinth notes. Garbed by gleaming, elliptic to obovate-shaped bright green foliage, the tailored bushy habit can dress up well-drained small gardens, sunny courtyards, rockeries and patios, where it snubs the deer, but welcomes pollinators, appreciates enriched slightly-acidic soil and begs one more heady whiff.
Blooms March–April
Size: 2' 0" – 3' 0" high x 3' 0" wide.
Hardy to zone 7.