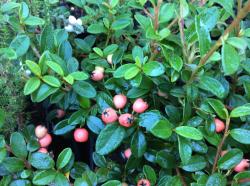 A more compact habit, increased leaf luster and copious coral-red fruit distinguish this winsome AGM recipient from the species C. dammeri, which hails from central and southern China. Boasting easy-care, year-round appeal, the attractive interlacing mass of stiff slender branches premieres diminutive, 5-petaled sparkling white flowers with purple anthers plus colorful late summer and early winter fruit. Petite, leathery deep green mostly evergreen foliage tinges purple in cold weather. Undaunted by deer, poor soil, dry conditions and erosion, but woeful if the weather's too hot, long-lived 'Coral Beauty' crafts a low-lying woody ground cover for rock gardens, foundations, walls or embankments.
Blooms May–June
Size: 6" – 12" high x 4' 0" – 6' 0" wide.
Hardy to zone 5.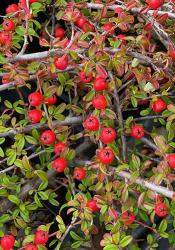 Sparkling star-like white flowers that are larger than those of the central Chinese species, plus tiny bright red berries dress up the round-tipped prominently veined dark green foliage. Growing as a dense polished ground cover, resourceful 'Mooncreeper's narrow ground-hugging red-tinged branches are perfect for massing. This winsome evergreen can be added to a bonsai collection, rock garden, foundation planting or embankment, where it abides deer, poor soil and southeastern humidity.
Blooms May
Size: 4" – 5" high x 3' 0" wide.
Hardy to zone 5.