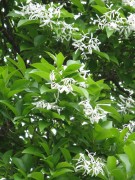 Named for its clustered, snow-white fleecy flowers, the broadly spreading Chinese Fringe Tree casts light shade with rounded leathery leaves. This deciduous Olive family member is a captivating, four season specimen displaying blue, egg-shaped summer fruit, warm yellow autumn foliage and peeling gray-brown bark in winter. Well sized for a lawn or small yard, it's easily cultivated in moist, loamy soil. Grows slowly. Large Band.
Blooms June.
Size: 20' 0" high x 15' 0" wide.
Hardy to zone 5.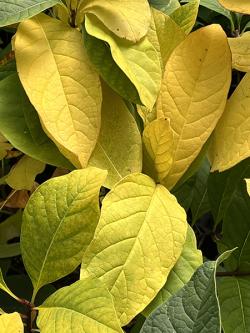 With ample, strap-shaped white blossoms held in fragrant, long fleecy panicles followed by egg-shaped blue fruit, the American Fringe Tree is one of the most beautiful of all North American trees. Found throughout the southeastern United States, this easily maintained variable native brings elegant allure to any garden setting, especially near water, where its openly-branching limbs and glossy green leaves can be reflected in the afternoon light. Grown as a small tree or multistemmed large shrub, Chionanthus is ideal for a lawn or intimate patio area, thriving in moist, well-drained acidic locations, though tolerant of other soil conditions. Grows slowly Large band.
Blooms June–mid-July
Size: 15' 0" high x 15' 0" – 20' 0" wide.
Hardy to zone 4.