Barberry
A genus of hundreds of species of shrubs, found throughout the temperate and subtropical regions of the world (apart from Australia). Our selections are Black Barberries, Berberis thunbergii.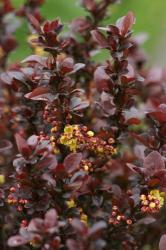 Draped in deep maroon velvety purple foliage, this splendid diminutive shrub maintains a dense rounded slow growing profile. Small bell-shaped yellow flowers, enhanced by warmly colored sepals, sparkle against opulent deciduous leaves, eventually giving way to a wintertime showing of bright red berries. Perfectly sized for edging, responsive to pruning and unyielding to deer or drought, 'Concorde' is a refined and easily maintained contender for containers, border frontage, low hedges and knot gardens, especially when paired with silver and green companions.
Blooms March–April.
Size: 18" – 2' 0" high x 18" – 2-1/2' wide.
Hardy to zone 4.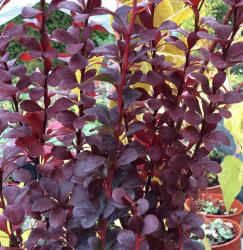 Imprinting a remarkable architectural aspect upon the landscape, this adaptable cultivar sculpts bold upright columns of rounded deep reddish purple leaves, which transmute brilliant red fall color. Multiple staunch ruddy brown stems sport richly colored deciduous foliage, plus clustered small yellow flowers followed by shiny bright red persistent berries. Utilized as a first-rate hedge or small screen, 'Helmond Pillar' is equally at home in an urban setting or a country garden, where it can frame a vista or entrance way, or stand sentinel in the mixed border.
Blooms April–May
Size: 4' 0" – 5' 0" high x 12" – 2' 0" wide.
Hardy to zone 4.