Silvery and swordlike, the stiff foliage grows in clumps and bears some resemblance to a Yucca. Highlighted with subtle bands in many shades of muted green and silver, the broad reflective leaves will make a dramatic presentation in your favorite container, or try planting Astelia as a specimen with Muhlenbergia rigens and Salvia melissodora in the rockery. Hailing from New Zealand, this unusual member of the Lily family prefers well drained soil.
Size: 3' 0" high x 3' 0" wide.
Hardy to zone 8.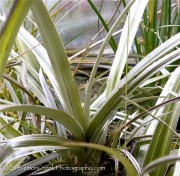 Superimposed with the silky luster of abundant soft white hairs, the elegant sword-shaped foliage dons irregular, bronzed maroon stripes on an olive green background and luminous silver hues on smooth flipsides. Channeled, foot long basal leaves forge a stiffly arching evergreen tussock, arising from short thick rhizomes.
Introduced by Duncan & Davies Nursery, this dramatic New Zealand Lily relative makes an unparalleled container candidate that fancies well-drained acid soil and part shade in hot climates.
Size: 3' 0" high x 3' 0" wide.
Hardy to zone 8.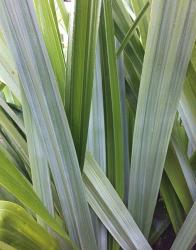 Bold, metallic and architectural, this stunning new Astelia chathamica and Astelia nervosa cross was masterminded by Tim and Hamish Prebble. The arching evergreen clump hosts strap-like, silver-frosted gray-green leaves that develop pointed tips plus lustrous pewter overlays on both surfaces. Guaranteed to be a flashy show-stealer, 'Silver Shadow' can be lodged in containers or mixed borders with perennials like Salvia nemorosa 'Wesuwe', Eryngium 'Big Blue' and Perovskia 'Blue Steel'. Adequate moisture and good drainage as well as shelter from scorching sun and temperatures below 25° ensure its success. (pp#22,195)
Size: 2' 0" – 3' 0" high x 3' 0" – 4' 0" wide.
Hardy to zone 8.