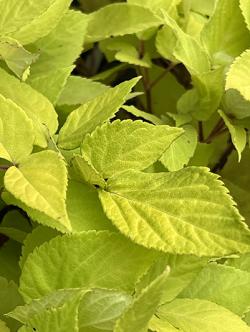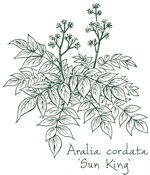 Bold, brilliant and tropical-style, this phenomenal newly introduced cultivar was first spotted by Barry Yinger in a Japanese nursery. Large, compound golden-yellow leaves grow up to 3 ft. long on energetic reddish brown stems, quickly framing a rounded bushy clump that turns lime-green when there's too much shade. Topped with 2 ft. tall spikes of honeybee-friendly small white flowers, 'Sun King' promises statuesque beauty wherever it's planted, bewitches birds with its purplish black berries and enjoys moist well-draining sites.
Blooms July–September
Size: 4' 0" – 6' 0" high x 3' 0" wide.
Hardy to zone 4.
Gracing the shade garden with a quiet textural beauty, this slowly colonizing North American perennial inhabits wooded areas, from New Brunswick to North Carolina and west to Utah and New Mexico.
Large, stout aromatic rhizomes sprout a multitude of abundantly branched glabrous stems and shrubby dark green compound foliage. The lush heart-shaped leaflets are toothed and unfurl in bronzy shades. Numerous round airy starbursts, defined by tiny cream-colored flowers, light up long terminal panicles like 4th of July sparklers. Glistening dark purple berries add additional appeal, while the spicy roots flavor root beer and yield medicinal remedies for broken bones, inflammation and asthma.
Surprisingly adaptable and easily maintained, Life-of-Man relishes bright shade, average moisture and fertile locales.
Blooms August–September.
Size: 3' 0" – 5' 0" high x 3' 0" – 5' 0" wide.
Hardy to zone 3.