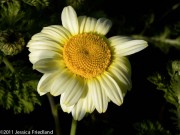 Named after the English plantswoman who discovered it, this robust, yet graceful chance seedling provides a soothing place for the eye to rest. The low silver-green mound of finely feathered foliage looks decorative even before the many, many gold-centered, creamy yellow daisies appear. In harmony with the foliage, the versatile long blooming flowers pale to alabaster tones, mixing easily with hot or cool color schemes.
Blooms June–September.
Size: 2' 0" high x 3' 0" wide.
Hardy to zone 6.