Catalog
Order the Catalog printed on genuine paper for $2.
Add to Cart
Digging Dog Nursery
a retail and mail order plant nursery specializing in unusual and hard to find perennials, ornamental grasses, shrubs, trees, and vines.
31101 Middle Ridge Rd.
Albion, CA 95410
phone:
(707) 937-1130
fax:
(707) 937-2480
Visit Us!
Summer Hours:
Wednesday–Saturday: 10am–4pm
Vernonia
at Digging Dog
Including Vernonia fasciculata, Vernonia lettermannii 'Iron Butterfly', and Vernonia noveboracensis 'White Lightening'

Vernonia
Ironweed
A robust presence, unsurpassed late fall color and a compelling winter silhouette are this North American prairie dweller's claim to fame. Painted with opulent crimson-purple hues, the flat branched heads of Aster-like flowers surmount proud stiff stems and long lance-shaped, rough-to-the touch green leaves. A finale of fluffy white seed heads matures to a rusty orange, earning its common name, while the genus pays tribute to William Vernon, a British botanist who collected the species in Maryland in 1698.
Clump-forming Ironweed is well-suited for a modern meadow-style theme, holding its own amongst bold, green bladed Miscanthus or more airy Molinia or tall perennials like Helianthus 'Lemon Queen' and Aconitum. Beloved by bees and butterflies everywhere, it's easily cultivated, appreciating a well drained moderately moist site.
Blooms August – September.
Size: 5' 0" high x 12"–2' 0" wide; hardy to zone 5.
Vernonia crinita (P-0971)
SOLD OUT!
Email me when this plant is available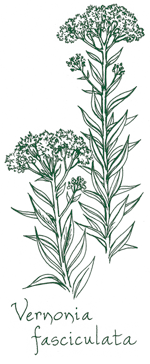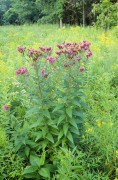 Venerated for its iron-related traits including arrow-straight brawny stems, fluffy warm rust-tinged seed heads and a rugged constitution, this easily grown late bloomer roams the moist prairies from Ohio to North Dakota and south to Missouri, Oklahoma and Texas. Glabrous green linear leaves line smooth stalks, rendering a brilliant purple burst of densely clustered composite flowers that hosts the American Painted Lady butterfly. Its substantial hard-working presence can be featured in informal borders or meadow-style settings and ensconced with Sanguisorba 'Chocolate Tip', Eryngium yuccifolium and native grasses.
Blooms July–September
Size: 2' 0"–4' 0" high x 18"–3' 0" wide. 3/4
Vernonia fasciculata (P-1902)
Each $7.75
Add to Cart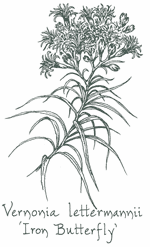 We owe a round of applause to Dr. Allen Armitage for his University of Georgia plant trials, which produced this highly touted tasteful selection of Arkansas resident, Vernonia lettermannii. Distinguished by delicate looking thread-like green leaves, the robust, yet compact, attractively branched mounding habit affords small tubular bright purple blooms housed in showy terminal sprays. Possessing both a herculean mettle and ultra-fine texture, 'Iron Butterfly' demands free draining niches and extends seasonal interest with warm rusty toned autumn flower color plus triumphs over hot dry conditions as well as sandy, infertile rock-strewn sites.
Blooms August–September
Size: 2' 0"–3' 0" high x 18"–2' 0" wide; hardy to zone 4.
Vernonia lettermannii 'Iron Butterfly' (P-1954)
Each $7.75
Add to Cart
New York Ironweed
A flashy new 2014 Jelitto Seeds introduction, this undemanding white blooming version of the New York Ironweed propels erect upright stalks, densely cloaked in serrated lanceolate green leaves, buoying fluffy delicate plumes of narrow-petaled creamy white daisies. Followed by decorative seed heads, the long lasting late-season blooms entice many garden visitors, especially the bees and butterflies, and make bright additions to cut arrangements. 'White Lightening's bushy clumping habit readily adapts to variable conditions and can be massed or planted as a striking focal point for a more informal venue.
Blooms August–October
Size: 6' 0" high x 2-1/2' wide; hardy to zone 4.
Vernonia noveboracensis 'White Lightening' (P-1955)
Each $7.75
Add to Cart
AVAILABLE AUGUST 2018
Saturday Strolls & Plant Chats 2018!
Saturdays at 2 p.m. July 14th and 28th, August 18th, and September 15th. Stroll with Horticulturalist Deborah Whigham, sip iced tea, nibble on tasty snacks & take home helpful gardening tips & tricks!
Current Staff's Favorite Plant