Catalog
Order the Catalog printed on genuine paper for $2.
Add to Cart
Digging Dog Nursery
a retail and mail order plant nursery specializing in unusual and hard to find perennials, ornamental grasses, shrubs, trees, and vines.
31101 Middle Ridge Rd.
Albion, CA 95410
phone:
(707) 937-1130
fax:
(707) 937-2480
Visit Us!
Summer Hours:
Wednesday–Saturday: 10am–4pm
Uncinia
at Digging Dog
Including Uncinia rubra 'Belinda's Find'

Uncinia
Red Hook Sedge
This toasty-hued New Zealand native is highly treasured for narrow, rich mahogany blades arching up and out from its base to forge a burnished tuft warmed by reddened accents. Tiny, Bulrush-like, hooked flowers are elevated above the tidy, low growing evergreen clump that flourishes in cool moist places but sulks in excessive heat.
Massed at water's edge or nestled in a cobalt blue container, Uncinia rubra strikes a stunning pose with Bergenia 'Bressingham Ruby's textural leaves or the rounded foliage of Lysimachia 'Aurea' as a golden counterpoint.
Blooms June–August.
Size: 12"–15" high x 15" wide. 7/8
Uncinia rubra (G-0474)
SOLD OUT!
Email me when this plant is available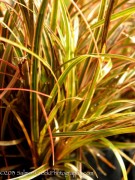 A real find for any gardener, this dazzling sport brandishes narrow lustrous bronze leaves with bright cherry red margins. The full-toned blades comprise a small loosely set clump that can accompany broader like-hued foliage, such as Heuchera 'Blackout', for an intriguing color echo or serve as an effective counterpoint against silver and blue-hued leaves. Celebrate 'Belinda's Find's vivacious accents in a courtyard, shady bed or favored container. (uspp#21,972)
Blooms June–August.
Size: 12" high x 15" wide; hardy to zone 8.
Uncinia rubra 'Belinda's Find' (G-0537)
Each $9.00
Add to Cart
Current Staff's Favorite Plant