Trees and Vines at Digging Dog
Including Clematis, Hydrangea, & Schizophragma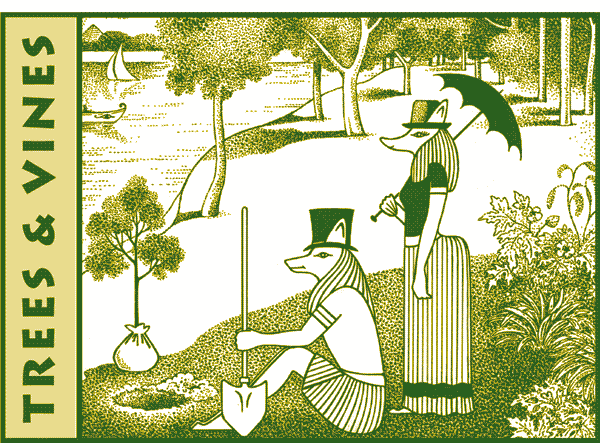 If gardens are outdoor rooms, designed to create a sense of enclosure, then trees are the pillars or columns that support the walls and ceiling. No wonder there are so many tree worshipers.
Trees are permanent legacies to the future; even if your plot of ground isn't an estate, you can leave something of enduring beauty behind. Use them to block unsightly views or to frame and emphasize outstanding ones. Only trees can give a garden that certain satisfying sense of permanence and maturity. Their shade and dappled light create microclimates beneath.
Plant trees singly as a starring role specimen, use three or five to create a grove, or get carried away and plant a French allée with double or multiple rows paralleling a central corridor. If your property is blessed with some ancient specimens, remember that they won't last forever, and plant a new generation with that in mind. However you decide to use them, do plan your garden around trees.
Vines are amazing in their ability to lend an air of maturity to the garden; trained on fence, arbor, pergola or house, they can frame a distant vista or intimate view. Vines can be used to "ground" any structure to the earth, and are perfect for harmonizing architectural forms with the environment; they can visually soften stone walls and fences, even camoußage an unsightly feature. Select a vine for its delicacy of pattern and leaf shape, or choose a veritable cascade of blossom.
View a slideshow of plant images from this page
Acer
Maple
Paperbark Maple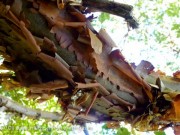 With a dignified, rounded form, dramatically flaking mahogany-colored bark that peels to expose the cinnamon hues beneath, and rich green trifoliate leaves that blaze to a brilliant red each fall, China's Paperbark Maple is a splendid specimen for just about any place in your garden. This Maple requires well drained soil, and will tolerate sun, shade or wind, but never drought. Unparalleled for its winter beauty, Acer griseum grows slowly to its full size.
Large Band.
Size: 20' 0"–30' 0" high x 15' 0"–20' 0" wide; hardy to zone 4.
Acer griseum (T-0028)
Each $20.00
Add to Cart
Actinidia
Hardy Male Kiwi
With a name that sounds like a magical chant, this deciduous climbing vine extends the Kiwi's hardiness range into the Northern U.S. and Canada. Its 3 to 5 in. heart-shaped leaves are painted with creamy white, green and pink. In summer, it bears small white flowers without fruiting.
Give this charmer well drained soil and watch it ramble up a pergola, fence or wall. Grant up to 2 to 3 years for the striking variegation to appear. Grows rapidly. Large Band.
Blooms June.
Size: 15' 0" high wide; hardy to zone 4.
Actinidia kolomikta 'Arctic Beauty' (T-0003)
SOLD OUT!
Email me when this plant is available
Ampelopsis
Porcelain Berry
Variegated Porcelain Berry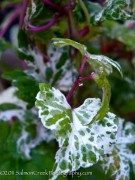 If you want to cover a wall or a fence quickly and dramatically, this is the vine for you. Originating in the Far East, this elegant, self-clinging, deciduous vine is densely covered with small leaves delicately splashed with pink and white, and young pink shoots. In the autumn, as the foliage turns light yellow, the porcelain-colored berries darken to steel blue. Large Band.
Size: 12' 0"–15' 0" high & spreading; hardy to zone 5.
Ampelopsis brevipedunculata 'Elegans' (T-0125)
SOLD OUT!
Email me when this plant is available
Argyrocytisus
Pineapple Broom
Hailing from North Africa's Atlas Mountains and sadly rare in cultivation, this RHS award winning, vigorous small tree boasts an extraordinary appearance that understates its surprising hardiness. Large, erect cone-shaped clusters with dense pineapple-scented lemon-yellow flowers festoon the velvety gray-green trifoliate leaves. Evergreen in milder climates, Pineapple Broom's upright yet relaxed looking bushy habit injects a sumptuous dose of summer cheer to a warm wall, seating area or the backside of a mixed planting. It relishes regular pruning and good drainage, endures deer, poor soil, heat and dry conditions, and thankfully will not reseed. Grows moderately to 10–20' x 8–10'. Medium Band.
Blooms June–mid-August.
Size: 10' 0"–20' 0" high x 8' 0"–10' 0" wide; hardy to zone 7.
Argyrocytisus battandieri (T-0275)
SOLD OUT!
Email me when this plant is available
Aristolochia
Dutchman's Pipe Vine
Dutchman's Pipe's glossy tropical-looking mien brings cool, deep shade to your corner of the world, as well as the wild woodlands and streams of the eastern U.S. The delightful, densely cloaked screen generated by this deciduous climber's flush of large heart-shaped foliage will also dampen street noise and rapidly shield you from the neighbors. With exceptional vigor, old- fashioned appeal, plus a pest and pollution-proof mettle, overlapping dark green leaves shyly reveal intriguing, 2 in. long mahogany and cream-colored tubular blooms, which flare into 3 lobes and evoke a Dutchman's pipe. A favored food source for the Pipevine Swallowtail butterfly, A. durior appreciates hefty support, adequate space, a late winter cutback and rich, well-drained moist soil, while effortlessly clambering over sun porches, verandas, pillars, posts or fences.
Blooms May–June
Size: 15' 0"–30' 0" high & spreading; hardy to zone 4.
Aristolochia durior (T-0301)
SOLD OUT!
Email me when this plant is available
Betula
Birch
Trost's Dwarf Birch
Delicately draped and uber fine, the deeply cut light green deciduous leaves, at first glimpse, may fool you into thinking this exceptional tree is a Lace Leaf Japanese Maple, but step closer and you'll see it's a small growing Birch. 'Trost's Dwarf ' slowly matures into an upright, somewhat rounded compact specimen that celebrates exceptional downy foliage and black etched luminous white bark. Highly coveted by bonsai enthusiasts, it's airy asymmetrical elegance can grace a container, the rockery, a pathway or any other up-front spot with evenly moist well-drained soil. Medium Band.
Size: 3' 0"–4' 0" high x 3' 0"–4' 0" wide. Zone 3/4.
Betula pendula 'Trost's Dwarf' (T-0278)
Each $17.00
Add to Cart
Carpinus
Hornbeam
European Hornbeam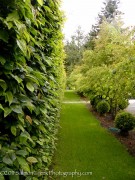 The deciduous European Hornbeam, with its handsome, densely arranged foliage, is renowned for making hedges. Also known for the hardness of its fine grained wood, it's used to manufacture the inner moving parts of pianos. Glistening, toothed and oval-shaped, the deep forest green leaves transmute to yellow in the fall against smooth gray bark inscribed by muscular, vertically aligned undulations. If clipping isn't your forté, don't worry because Carpinus naturally grows in a dense, pyramidal to rounded shape.
Aside from the classic elegance of the pleated foliage, Hornbeam also exhibits an overall hardiness, capable of withstanding wind, shearing, heavy pruning and clay soil. Try it as a hedge, windbreak, single specimen, or get wild and plant an allée, pleached or not. Deep Large Band. 10 feet in 10 years.
Blooms March.
Size: 40' 0"–60' 0" high x 20' 0"–30' 0" wide; hardy to zone 5.
Carpinus betulus (T-0004)
Each $18.25
Add to Cart
Korean Hornbeam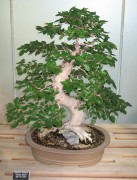 Cherished among bonsai devotees, this graceful multi-stemmed Korean native deserves a prominent place in more landscapes as a small-scale ornamental specimen. Pendulous branches taper into short shrubby, deep brown twigs that are infused with wine hues. Sporting a lustrous spring and summer sheen, the serrated tiny green deciduous leaves orchestrate a fantastic fall finale of flaming red, yellow and orange colors. Appreciative of some protection from hot afternoon sun, especially in dry locations, C. coreana's refined slow-growing visage can flourish near a bench, a terrace or even in a large container, while its strong growing roots can survive occasional drought. Grows slowly.
Blooms March
Size: 15' 0"–20' 0" high x 12' 0"–15' 0" wide; hardy to zone 5.
Carpinus coreana (T-0284)
Each $18.25
Add to Cart
Japanese Hornbeam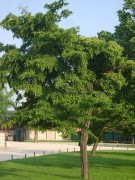 This stellar medium-sized Hornbeam promises to delight all year round. Hallmarking spring and summer, a winsome bevy of small, oval-shaped dark green serrated foliage sport prominent veins, soft yellow-green undersides and slender pointed tips. Long, pendent, bright green and red-tinged fruiting keys accompanied by cozy yellow and red foliage make attractive autumn features, while winter showcases pendulous branches and smooth pale patterned bark.
A rarely offered Japanese native introduced in 1914, the versatile Carpinus laxiflora can be grown as a landscape specimen or serves as an ideal bonsai candidate. 10' in 10 years. Large Band.
Blooms March.
Size: 30' 0" high x 20' 0"–25' 0" wide; hardy to zone 6.
Carpinus laxiflora (T-0260)
SOLD OUT!
Email me when this plant is available
Cercidiphyllum
Katsura Tree
When Japanese philosopher Toshitsuna said that trees "bring the magnificence of heaven to the human realm," he must have been contemplating a Katsura Tree. The graceful foliage is rounded, almost heart-shaped, announcing spring in purple and bronze, then maturing to a sprightly medium green. In fall, it keeps us guessing with its variable autumn colors: pale or brilliant, yellow or orange, red, pink, or mauve, while the leaves mysteriously exude the distinct scent of fresh strawberries. Give it rich, slightly acid soil and adequate moisture.
Katsura Tree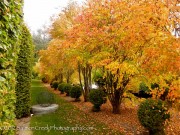 Perhaps Japan's largest shade tree, normally multi- trunked Katsura manifests a gracious symmetry; trained to a single trunk it provides a narrower, almost columnar shape. Its dappled shade is a cordial host for Corylopsis. Grows moderately to rapidly.
Large Band.
Blooms March–April.
Size: 60' 0" high x 30' 0" wide; hardy to zone 5.
Cercidiphyllum japonicum (T-0005)
Each $18.25
Add to Cart
Chionanthus
Fringe Tree
Chinese Fringe Tree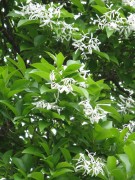 Named for its clustered, snow-white fleecy flowers, the broadly spreading Chinese Fringe Tree casts light shade with rounded leathery leaves. This deciduous Olive family member is a captivating, four season specimen displaying blue, egg-shaped summer fruit, warm yellow autumn foliage and peeling gray-brown bark in winter. Well sized for a lawn or small yard, it's easily cultivated in moist, loamy soil. Grows slowly. Large Band.
Blooms June.
Size: 20' 0" high x 15' 0" wide; hardy to zone 5.
Chionanthus retusus (T-0008)
Each $17.00
Add to Cart
American Fringe Tree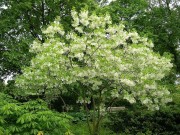 With ample cream-colored, lacy blossoms and blue, egg-shaped fruit, the American Fringe tree is one of the most beautiful of all North American trees. Native to the eastern United States, it appears quite elegant near water, where its openly branching limbs and glossy green leaves can be reflected in the afternoon light. Growing into small trees, or occasionally multistemmed large shrubs, Chionanthus are easy to cultivate in moist, loamy soil and are well sized for a lawn or small yard. Grows slowly. Large band.
Blooms late June–mid July
Size: 15' 0" high x 20' 0" wide; hardy to zone 4.
Chionanthus virginicus (T-0034)
Each $17.00
Add to Cart
AVAILABLE AUGUST 2018
x Chitalpa
Russian bred and spawned by two American genera, Chilopsis and Catalpa, this stalwart, small deciduous tree debuts copious, upright exotic-looking floral clusters, each housing 15 to 40 light pink orchid-like blossoms. Ruffled margins and purple-lined yellowish throats embellish long blooming, one inch trumpet-shaped flowers to the delight of hummingbirds everywhere. With tapered tips and bases, soft shaggy hairs on the flipsides and a glabrous finish, narrow lengthy green leaves clothe fast growing branches, which are close-set near the ground, then extend outward, casting a wide airy silhouette.
Undemanding, water-thrifty and heat abiding, 'Pink Dawn' is equally at ease in modern planting schemes, cottage gardens or Mediterranean landscapes. Grows rapidly. Large Band.
Blooms June–September.
Size: 15' 0"–25' 0" high x 15' 0"–25' 0" wide; hardy to zone 6.
x Chitalpa tashkentensis 'Pink Dawn' (T-0272)
SOLD OUT!
Email me when this plant is available
Cladrastis
Yellowood
Uncommon in cultivation and considered by many to be the foremost American flowering tree, this southeastern U.S. denizen forges a graceful broad rounded crown of delicate low sweeping limbs that create dense shade. The dramatic framework becomes a dignified focal point with smooth pewter-colored bark and prominent flat brown seed pods on sinewy luminous branches. Delightfully fragrant, pendulous, long creamy white Wisteria-style panicles luxuriate against pinnately compound, rich green foliage defined by 7 to 9 deciduous leaflets, donning silky gray hairs when young and bright butter yellow hues in autumn.
Pest free and drought tolerant, practically indestructible Yellowood detests wet feet, favors well-drained loam, yields a yellow dye and supports beneficial nitrogen-fixing bacteria. Grows moderately. Large Band.
Blooms May–June.
Size: 30' 0"–45' 0" high x 40' 0"–45' 0" wide; hardy to zone 4.
Cladrastis kentukea (T-0271)
SOLD OUT!
Email me when this plant is available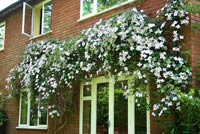 Simple and beautiful, Clematis includes over 300 named cultivars and even more wild species than the rose. Our selections offer opulent blossoms, attractive, carefree foliage, and ornamental seed heads, in exchange for a minimum of attention. Use them to cover just about every stump and dead tree, as well as on trellises, arbors, pergolas, walls and tall shrubs. They prefer to be planted slightly deep in cool, well drained soil, with mulch or a ground cover to shade their feet; provide a support and let them climb.
Medium Band.
Englishwoman Kathleen Goodman selected this hardy AGM winner as a welcome, easily cultivated improvement over its parent Clematis alpina 'Ruby'. Abundant nodding blooms garnish thin twining stems and attractive deciduous leaflets, which shape a reliable small-statured habit. With charm to spare, the deep rosy pink bell-shaped flowers showcase a prominent outer layer of long central, petal-like sterile white stamens, followed by playful swirls of eye-catching fuzzy seed heads. Ideal for tight spaces plus intimate garden settings, a north-facing wall or patio container, 'Constance' delivers moderate growth and a floriferous early spring gala in well-draining sunny or brightly shaded sites.
Blooms April-May
Size: 6' 0"–8' 0" high & spreading; hardy to zone 4.
Clematis alpina 'Constance' (T-0285)
Each $17.75
Add to Cart
Honored with the same name as the musical luminary Jacqueline du Pré, this Clematis harmoniously orchestrates bright green deciduous leaves arranged in threes, maroon-tinged stems and large, freely borne rosy mauve flowers. Suspended from long stalks, pointed dusky mulberry-hued buds reveal light-centered, semipendent blooms composed of four separate, out curving tepals with pale-blushed margins and darker orchid shades on the exterior.
A shimmering overture announcing spring's arrival, the dainty floral display garnishes a vigorous, cold hardy vine, acquiescing to both cool, shady northern spots and sunny, more exposed locations.
Blooms April – May.
Size: 8' 0"–10' 0" high & spreading; hardy to zone 3.
Clematis alpina 'Jacqueline du Pré' (T-0241)
SOLD OUT!
Email me when this plant is available
(Integrifolia Group)
Celebrated as the most popular nonclimbing Clematis and the longest flowering of all Clematis, this 2002 AGM recipient promotes plentiful, rounded bright blue-mauve flowers from spring through fall upon a winsome, semiherbaceous shrubby habit. The incessant 3 in. wide blooms initially glow with a reddish cast, then fade to soft blue, each defined by 4 to 8 classy pear-shaped tepals surrounding pronounced creamy yellow stamens. An exceptional integrifolia descendant well-suited for any garden, 'Arabella' can tumble down walls, weave through medium-sized shrubs in a mixed border or forge a compact flowering ground cover.
Blooms June–early October
Size: 3' 0"–6' 0" high & spreading; hardy to zone 4.
Clematis 'Arabella' (T-0302)
Each $17.75
Add to Cart
Lolling upon vigorous yet slightly tender polished foliage, vanilla-scented, eye-catching clusters of white saucer-shaped 2 to 2 ó in. flowers are defined by yellow stamens and 4 to 6 well-spaced broad tepals with pink painted flipsides. Sprightly rose-colored buds and bronze-tinged stems further enhance the long boatshaped dark green leaves, which sport conspicuous ribbing, pointed tips and rich coppery hues when young. A 2002 Garden Merit Award recipient, this stylish evergreen climber affords an enticing floriferous display each spring and a handsome year-round presence when situated in a sheltered well-drained sunny abode, such as a south-facing garden or house wall.
Blooms March – April.
Size: 15' 0"–25' 0" high & spreading; hardy to zone 7.
Clematis armandii 'Apple Blossom' (T-0279)
SOLD OUT!
Email me when this plant is available
A 1900 introduction by famed plant hunter E. H. Wilson, this energetic award-winner is supposedly one of the most desired evergreen Clematis in cultivation. Large half-hardy deep green leaves—thick, waxy, pointed and copper-infused when young—sculpt a tasteful verdurous screen. Beguiling bees, butterflies, hummingbirds and plant enthusiasts alike, dense axillary clusters of urbane, pure white single flowers, each with 4 to 6 starry tepals, waft a delectable vanilla fragrance. Bright, fast draining niches, protection from cold winter winds, a trim immediately after blooming plus well-rotted compost applied as an early spring mulch ensure a mighty fine specimen.
Blooms March–April
Size: 15' 0"–25' 0" high & spreading; hardy to zone 7.
Clematis armandii 'Snowdrift' (T-0303)
Each $17.75
Add to Cart
A late flowering jackmanii descendant, this treasured 1874 introduction was raised by John Standish and named for Ascot, the English town where it originated. Shapely clear medium blue blooms include greenish chocolate-colored anthers plus 4 to 6 tepals that initially unfold with a stunning deeper blue-mauve metallic luster. Affording late season color, the large bountiful flowers populate most of the stem and stage a lovely presentation in a patio pot. Hearty, deciduous and reliable, 'Ascotiensis' can complement red or yellow roses, scale small trees and shrubs or grace a trellis.
Blooms July–September
Size: 8' 0"–12' 0" high & spreading; hardy to zone 4.
Clematis 'Ascotiensis' (T-0294)
Each $17.75
Add to Cart
Hats off to the University of British Columbia for selecting this long blooming citrus-hued gem from a group of South Korean seedlings. Lustrous winecolored stems and sturdy trifoliate deciduous foliage host masses of pastel yellow bells described by thick prominently ridged tepals, burgundy-flushed bases and slender pointed tips that turn outward. Arising mostly from the previous season's wood, its nodding fairy-like flowers welcome in summer, while ethereal silver-laced fluffy seed heads extend the enchantment.
Blooms May–June
Size: 6-1/2'–10' 0" high & spreading; hardy to zone 6.
Clematis chiisanensis 'Lemon Bells' (T-0240)
SOLD OUT!
Email me when this plant is available
Also known as Clematis spooneri.
An avalanche of white blossoms smothers the deep green rounded foliage, like a heavy spring snowfall in the mountains. Amid 3-lobed deciduous leaflets that are downy on both sides and purple-tinged when young, broad, widely spaced tepals embellish each illuminated flower. This splendid climber bears some semblance to Clematis montana, though its vigorous form is more refined and somewhat less rambunctious, rendering it more suited to a terrace or smaller garden.
Blooms April – early June.
Size: 15' 0"–20' 0" high & spreading; hardy to zone 6.
Clematis chrysocoma var. sericea (T-0265)
Each $17.75
Add to Cart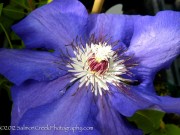 (Vancouver ™)
So smitten with his new introduction, Fred Wein Sr. of Clearview Horticultural Nursery, a leading North American Clematis grower, named it after his darling granddaughter. Overlapping vibrant purple-blue tepals with carmine-tinged central bars and rich red-tipped stamens distinguish 'Danielle's large shapely blooms.
Superb as a cut flower and as a container focal point, due to its compact stature, this celebrated Clematis' richly hued blossoms will festoon your garden in late spring and again in early autumn.
Blooms June & September.
Size: 6' 0"–8' 0" high & spreading; hardy to zone 4.
Clematis 'Danielle' (T-0261)
SOLD OUT!
Email me when this plant is available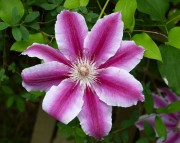 The dexterous hands of an Argentine doctor raised this fabulous free flowering Clematis. Boasting wavy edges and a sensuous satiny luster, each large single blossom is composed of 6 to 8 overlapping rose pink tepals, which encompass candent yellow-brown anthers. Dark fuchsia-colored central brush strokes and tapered points define the tepals. A medium-sized, moderately vigorous stature renders it well-suited for container culture or a garden arch.
Coveted by floral arrangers and hummingbirds alike, 'Doctor Ruppel' charms gardeners with repeat bloom periods, curly tailed spherical seed heads and a mettle tough enough to endure strong sunlight.
Blooms May – June & September.
Size: 8' 0"–10' 0" high & spreading; hardy to zone 4.
Clematis 'Doctor Ruppel' (T-0262)
Each $17.75
Add to Cart