Catalog
Order the Catalog printed on genuine paper for $2.
Add to Cart
Digging Dog Nursery
a retail and mail order plant nursery specializing in unusual and hard to find perennials, ornamental grasses, shrubs, trees, and vines.
31101 Middle Ridge Rd.
Albion, CA 95410
phone:
(707) 937-1130
fax:
(707) 937-2480
Visit Us!
Summer Hours:
Wednesday–Saturday: 10am–4pm
Sporobolus (Giant Sacaton)
at Digging Dog
Including Sporobolus heterolepis 'Wisconsin Strain', and Sporobolus heterolepis 'Tara'

Sporobolus
Giant Sacaton
Dwarf Prairie Dropseed
More compact, slightly stiffer and definitely smaller than the species, this upright fine textured dwarf cultivar was selected by astute nurseryman Roy Diblik. 'Tara' is a staunch, warm season grass, which forges a tasteful vase-shaped green foundation beneath the exquisite wispy gathering of numerous minute pinkish purple inflorescences on slender stems. Mature round seed heads drop to the ground, hence the common name, while narrow foliage blazes red and orange for autumn. Enticing birds and gardeners, especially those who have limited space, heat tolerant Dwarf Prairie Dropseed can mingle with Echinacea, Monarda or Nepeta in borders, slopes and meadow plantings.
Blooms August–October
Size: 2' 0"–3' 0" high x 2' 0"–3' 0" wide; hardy to zone 3.
Sporobolus heterolepis 'Tara' (G-0567)
Each $8.00
Add to Cart
AVAILABLE SPRING 2019
Prairie Dropseed
Considered the most urbane of the American prairie grasses, 'Wisconsin Strain' parades early reliable blooms plus a sublime fountain-style presence. The grand misty floral froth hovers well above an upright arching 1 to 2 ft. tall hummock of finely cut, soft-looking emerald green leaves that turn opulent burgundy, gold or burnt tangerine hues in autumn then blanch to light copper in winter. Savored by birds and once ground into flour by Native Americans, countless tawny colored seed heads arise from minute ethereal-like pink and brown-toned inflorescences, wafting a unique cilantro spiced popcorn aroma. This versatile slow growing grass requires minimal care, braves an array of soil types and relishes moist fertile sites, though tolerates drought once mature.
Blooms July–September
Size: 3' 0" high x 3' 0" wide. 3/4
Sporobolus heterolepis 'Wisconsin Strain' (G-0560)
Each $8.00
Add to Cart
AVAILABLE SUMMER 2018
Originally bred by New Mexico's Los Lunas Plant Materials Center to be a utilitarian non-woody windbreak, this enormous grass pleasantly surprised everyone with its majestic bearing plus spectacular blonde and bronze-colored fluffy flower spikes.
Strap-like medium green foliage boldly forges a sturdy upstanding foundation, touted as the largest of all native American grasses. Possessing a versatile, non-invasive practicality unlike the Victorian era's Pampas Grass, 'Windbreaker' makes a top-notch choice for a living fence, hedgerow or an awe-inspiring ornamental specimen in a mixed border.
Size: 7' 0"–10' 0" high x 6' 0" wide; hardy to zone 5.
Sporobolus wrightii 'Windbreaker' (G-0552)
SOLD OUT!
Email me when this plant is available
Garden Conservancy Open Day at Digging Dog!
Saturday, June 23 - 10 a.m. to 5 p.m. Digging Deeper – Join Patricia Smyth, owner of Essence of the Tree, for a Japanese maple container demonstration. Enjoy a guided tour of the Private Gardens of Deborah Whigham and Gary Ratway, adjacent to Digging Dog Nursery in Albion, CA; free with $7.00 garden admission. Tickets are available via
this link
or at Digging Dog Nursery. Plant shopping welcome!
Mendocino Art Center (MAC) Garden Tour!
Saturday, June 30 - 10 a.m. to 5 p.m. We welcome you to join us in support of The Mendocino Art Center for this fabulous garden tour and fundraiser. Tickets are available through the MAC's website.
Saturday Strolls & Plant Chats 2018!
Saturdays at 2 p.m. July 14th and 28th, August 18th, and September 15th. Stroll with Horticulturalist Deborah Whigham, sip iced tea, nibble on tasty snacks & take home helpful gardening tips & tricks!
Current Staff's Favorite Plant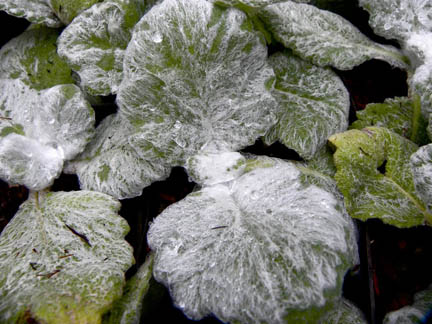 Customer Comment:
"I placed a large order & am very pleased with the experience. I chose Digging Dog because they had cultivars that I couldn't find elsewhere & were grown neonic-free. All the plants I received were strong & well-rooted. I will happily order from them again."
~Sarah in Washington
view Digging Dog's comments with Dave's Garden (The Garden Watchdog)