Catalog
Order the Catalog printed on genuine paper for $2.
Add to Cart
Digging Dog Nursery
a retail and mail order plant nursery specializing in unusual and hard to find perennials, ornamental grasses, shrubs, trees, and vines.
31101 Middle Ridge Rd.
Albion, CA 95410
phone:
(707) 937-1130
fax:
(707) 937-2480
Visit Us!
Summer Hours:
Wednesday–Saturday: 10am–4pm
Spiraea
at Digging Dog
Including Spiraea japonica 'Bullata', Spiraea thunbergii 'Ogon', and Spiraea x vanhouttei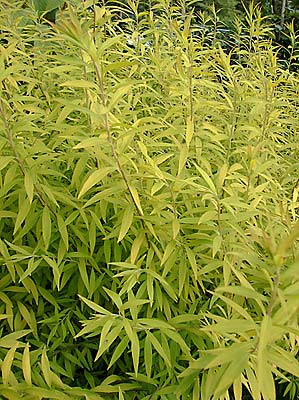 Spiraea
With attractive foliage and a graceful habit, these hardy, deciduous flowering shrubs belong to the Rose family, and are easily grown in any fertile, somewhat moisture-retentive garden soil.
Birchleaf Spirea
Unique among other Spireas for its small oval Birch-like leaves, 'Tor's tightset orderly mounds make a reflective deep green foil for clustered purplish buds and a profusion of sprightly snow white blooms that charm butterflies. Autumn brings additional enticements when the refined foliage premieres orange, red and purple colors.
Employed as a mixed border or rockery specimen, or planted en masse along pathways and foundations, this compact deciduous shrub fancies sunshine and periodic pruning. It combines well with silver dappled Pulmonarias or Carex testacea, which provide compelling foliar contrast.
Blooms May – June.
Size: 2' 0"–3' 0" high x 2' 0"–3' 0" wide. 3/4
Spiraea betulifolia 'Tor' (S-0753)
SOLD OUT!
Email me when this plant is available
Japanese Spiraea
An unsung heirloom hero that dates back to 1881, this diminutive darling deserves more attention. Close-knit twiggy growth clad in tiny crinkled dark green deciduous leaves sculpts a compact, yet broad tailored foundation with big clusters of lipstick pretty, deep rosy crimson flowers. Undemanding 'Bullata' is custom-made for patio containers, a rock garden or the front lines, either in a border or along a path.
Blooms June–July
Size: 16"–2' 0" high x 20"–2-1/2' wide; hardy to zone 4.
Spiraea japonica 'Bullata' (S-0817)
Each $9.75
Add to Cart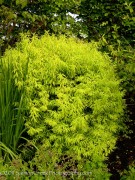 Among the first shrubs to bloom, 'Ogon's pretty white five-petaled flowers are arranged in abundant clusters along its wiry bare branches. Later, small and slender Willow-like foliage attires the numerous dark twigs. Illuminated in golden shades, this fine textured Japanese selection conveys a bright, wispy visage in the midst of blue flowering Geranium 'Nimbus', Berberis 'Golden Ring' and Euphorbias.
Blooms March–April.
Size: 4' 0" high x 4' 0" wide; hardy to zone 5.
Spiraea thunbergii 'Ogon' (S-0572)
Each $9.75
Add to Cart
Bridalwreath
This well-loved sturdy shrub has been delivering reliable spring flowers since 1868, when it was first introduced by the French shrub enthusiast and nurserymen Joseph Billard. Dense clustered umbels of tiny white blooms fashion a scintillating mantle that nearly conceals the copious gracefully arching branches. Spiraea x vanhouttei's shapely medium-sized habit hosts small rhomboid-shaped green deciduous leaves with coarsely serrated margins and yellow or violet autumn hues. A cross between S. trilobata and S. cantoniensis, Bridalwreath makes an ideal low-maintenance addition to foundation plantings as well as sunny woodland margins and mixed borders, where it can be grouped or planted as a prominent specimen amid perennials and grasses.
Blooms April-May
Size: 5' 0"–8' 0" high x 5' 0"–8' 0" wide. 3/4
Spiraea x vanhouttei (S-0794)
Each $9.75
Add to Cart
Saturday Strolls & Plant Chats 2018!
Saturdays at 2 p.m. July 14th and 28th, August 18th, and September 15th. Stroll with Horticulturalist Deborah Whigham, sip iced tea, nibble on tasty snacks & take home helpful gardening tips & tricks!
Current Staff's Favorite Plant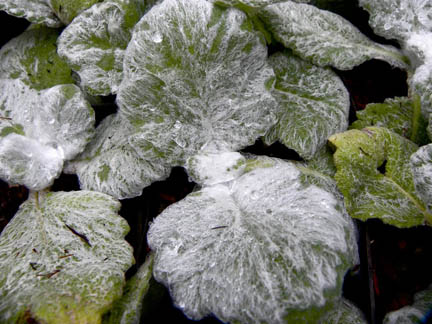 Customer Comment:
"I just received my plant order this morning. Everything looks GREAT and seems to have come through in fine order. I am so glad I ordered from your nursery and I will definitely be getting more plants from you. They are very healthy and have obviously had a good start!"
~Cathy in Washington
view Digging Dog's comments with Dave's Garden (The Garden Watchdog)