Catalog
Order the Catalog printed on genuine paper for $2.
Add to Cart
Digging Dog Nursery
a retail and mail order plant nursery specializing in unusual and hard to find perennials, ornamental grasses, shrubs, trees, and vines.
31101 Middle Ridge Rd.
Albion, CA 95410
phone:
(707) 937-1130
fax:
(707) 937-2480
Visit Us!
Summer Hours:
Wednesday–Saturday: 10am–4pm
Sambucus (Elderberry)
at Digging Dog
Including Sambucus nigra 'Gerda', and Sambucus racemosa 'Sutherland Gold'

Sambucus
Elderberry
Throughout the world, Elders have long been considered powerful trees and shrubs. Sicilians thought the branches killed serpents and drove away robbers; Serbs believed the branches brought good luck at weddings; the English carried knotted twigs in their pockets to ward off rheumatism. We invite you to plant Elders to provide quick shade, wind protection, or an easy screen for unwanted views.
These wild-looking deciduous shrubs grow quickly and offer a beautiful accent near water. With pinnate leaves, white to pink flat flower clusters that measure up to 10 in. wide, and small, dark fruit, most of the twenty species of the genus like good, moist soil.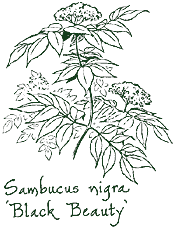 Sambucus nigra Black Beauty™
Set apart by its intense purple-black leaves, this Sambucus comes to us from a special breeding program in Kent, England. The passionate hue of the foliage remains all season, darkening as autumn approaches. Superbly displayed against the dramatic leaves, unique, deep pink, lemon-scented umbels develop to almost 10 in. across.
Partner this thoroughbred with the golden foliage of Spiraea 'Ogon' or let her stand as an alluring backdrop for the silvery inflorescences of the late blooming grasses. Minimal pruning will easily maintain 'Black Beauty's smaller silhouette for gardens short on space. (PP#12,305)
Blooms May–June.
Size: 10' 0"–12' 0" high x 6' 0"–8' 0" wide; hardy to zone 4.
Sambucus nigra 'Gerda' (S-0595)
Each $12.25
Add to Cart
Golden Elderberry
Springtime layers of finely dissected golden foliage attire this award-winning multistemmed Sambucus. More resistant to sun scorch than other yellow-leafed Elderberry cultivars, the delicate looking ferny leaves emerge in copper-hued shades and slowly develop a refreshing lime-green cast during the warmer months. Favoring judicious pruning, adequately moist soil and bright partial shade, its graceful visage is further enhanced by conical racemes of creamy white flowers and glossy red fruit that birds adore.
Blooms late April – May.
Size: 6' 0"–10' 0" high x 6' 0"–10' 0" wide. 3/4
Sambucus racemosa 'Sutherland Gold' (S-0750)
Each $12.25
Add to Cart
Garden Conservancy Open Day at Digging Dog!
Saturday, June 23 - 10 a.m. to 5 p.m. Digging Deeper Ė Join Patricia Smyth, owner of Essence of the Tree, for a Japanese maple container demonstration. Enjoy a guided tour of the Private Gardens of Deborah Whigham and Gary Ratway, adjacent to Digging Dog Nursery in Albion, CA; free with $7.00 garden admission. Tickets are available via
this link
or at Digging Dog Nursery. Plant shopping welcome!
Mendocino Art Center (MAC) Garden Tour!
Saturday, June 30 - 10 a.m. to 5 p.m. We welcome you to join us in support of The Mendocino Art Center for this fabulous garden tour and fundraiser. Tickets are available through the MACís website.
Saturday Strolls & Plant Chats 2018!
Saturdays at 2 p.m. July 14th and 28th, August 18th, and September 15th. Stroll with Horticulturalist Deborah Whigham, sip iced tea, nibble on tasty snacks & take home helpful gardening tips & tricks!
Current Staff's Favorite Plant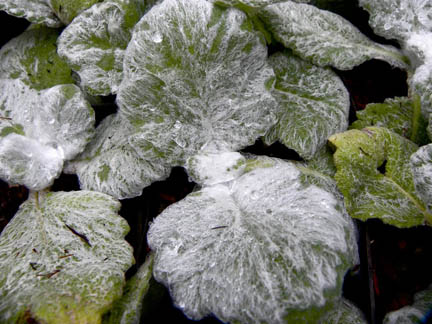 Customer Comment:
"I ordered a few things and had a pleasant experience. Email communication was prompt. The plants themselves arrived swiftly, were very well packed and were very large and had impressively healthy root systems. I would definitely order from them again."
~Jess in New Mexico
view Digging Dog's comments with Dave's Garden (The Garden Watchdog)