Catalog
Order the Catalog printed on genuine paper for $2.
Add to Cart
Digging Dog Nursery
a retail and mail order plant nursery specializing in unusual and hard to find perennials, ornamental grasses, shrubs, trees, and vines.
31101 Middle Ridge Rd.
Albion, CA 95410
phone:
(707) 937-1130
fax:
(707) 937-2480
Visit Us!
Summer Hours:
Wednesday–Saturday: 10am–4pm
Salix (Willow)
at Digging Dog
Including Salix purpurea 'Nana'

Salix
Willow
This diverse genus includes 300 deciduous species that are a breeze to grow in just about any garden soil. Our selections emphasize intriguing stems, foliage and silhouettes.
Dappled Willow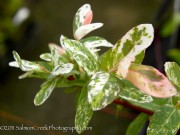 Young bright pink shoots and slender creamy white dappled green leaves eagerly push upwards, forging a dramatic counterpoint to cream-streaked grayish green mature foliage. Interest persists as the year progresses: yellow foliar color heralds autumn, new polished bright red stems relieve a somber winter day and early spring brings pendant yellow catkins. 'Hakuro Nishiki's graceful arching attributes deserve the spotlight a dark background affords. More acquiescent of slightly drier sites than most Salix, Dappled Japanese Willow thrives in moderately moist soil and appreciates a late winter or early spring pruning to ensure its stylish deciduous display.
Size: 5' 0" high x 3' 0"–4' 0" wide; hardy to zone 5.
Salix integra 'Hakuro Nishiki' (S-0451)
SOLD OUT!
Email me when this plant is available
Dwarf Purple Osier
Handsome, thin bluish green leaves, showy light-colored catkins and supple slim purple stems, which are perfect for basket making, characterize this fast growing versatile Willow. Responsive to shearing, 'Nana's easily cultivated compact habit can be sculpted into a colorful topiary, refined-looking hedge or an artful bonsai specimen. In addition to its urbane ornamental merits, Dwarf Purple Osier furnishes nesting sites for small birds, attracts butterflies, aids erosion control and tackles moderate drought along with difficult low soggy sites.
Blooms April–May
Size: 3' 0"–5' 0" high x 3' 0"–5' 0" wide; hardy to zone 4.
Salix purpurea 'Nana' (S-0816)
Each $10.25
Add to Cart
Boyd's Creeping Willow
An alluring specimen for bonsai, rock garden and container enthusiasts, this petite ground-hugger greets spring with adorable fluffy cream-colored catkins on slender naked branches. The slim prostrate twigs and branchlets divide into thinner curved reddish stems, weaving a unique pendent drape of tiny gray-green deciduous leaves sporting silvered undersides. Full sun ensures optimum growth.
Size: 10' 0" high x 3' 0" wide; hardy to zone 5.
Salix repens 'Boyd's Pendula' (S-0765)
SOLD OUT!
Email me when this plant is available
Saturday Strolls & Plant Chats 2018!
Saturdays at 2 p.m. July 14th and 28th, August 18th, and September 15th. Stroll with Horticulturalist Deborah Whigham, sip iced tea, nibble on tasty snacks & take home helpful gardening tips & tricks!
Current Staff's Favorite Plant