Rudbeckia (Black-Eyed Susan)
at Digging Dog
Including Rudbeckia fulgida, Rudbeckia fulgida speciosa (Newmanii), Rudbeckia grandiflora, Rudbeckia occidentalis, and Rudbeckia subtomentosa

Rudbeckia
Black-Eyed Susan
Named by Linnaeus in honor of his teacher Olaf Rudbeck, this North American genus includes 25 to 30 species, many of them famous summer, especially late season, bloomers. These selections are easy to grow, make fine cut flowers, and will brighten any border or naturalized meadow. Offering interest also in the late fall and winter, they combine well with Aster, Eupatorium, and grasses.
Deam's Black-Eyed Susan
A resilient central and southeastern U.S. native, this undemanding queen of yellow wields her scepter over the late season garden. Each glorious, large golden disc hosts a pronounced velvety dark chocolate center and 12 to 21 ebullient rays. Crowning strong, branched upright stems and hairy, oblong thick dark green leaves, the intriguing pointed green calyces unfurl a profuse sunny gala that entrances butterflies, song birds, florists and plant enthusiasts. Adaptable Deam's Black-Eyed Susan can be added to stylized meadows, perennial borders and cottage gardens, where she thwarts pests and tolerates occasional drought plus clay or rocky soil.
Blooms July–September
Size: 2-1/2'–3' 0" high x 15" wide; hardy to zone 3.
Rudbeckia fulgida var. deamii (P-1949)
Each $8.00
Add to Cart
Compact Black-Eyed Susan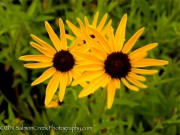 Somewhat wilder looking than most of the well-known cultivars, this species holds bright orange-yellow flowers with densely clustered petals on strong, wiry stems. In our garden, its open habit is backed by Persicaria 'Summer Dance'.
Blooms late July–September.
Size: 2' 0" high x 2' 0" wide; hardy to zone 4.
Rudbeckia fulgida speciosa (Newmanii) (P-0552)
Each $7.75
Add to Cart
Black-Eyed Susan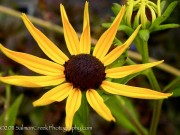 You probably know 'Swiss Gold' as Black-Eyed Susan, those robust, bright orange-yellow American daisies with the dark centers. As charming in seed as it is in flower, its abundant chocolate-brown seed heads last until Thanksgiving. Strong stems bear flowers almost 3 ft. high without staking; foliage is dark green and hirsute.
Set a meadow ablaze with a large drift. Effective with Eupatorium 'Gateway', Aster 'Coombe Fishacre' and Deschampsia 'Goldgehänge' for texture.
Blooms August–October.
Size: 2-1/2' high & spreading; hardy to zone 4.
Rudbeckia fulgida 'Swiss Gold' (P-1399)
SOLD OUT!
Email me when this plant is available
Wildly popular for her over-the-top lambent flower power and enduring compact stature, this disease-proof selection of our native Black-Eyed Susan occurred at Andre Viette's Virginia farm and was introduced by Blooms of Bressingham. Tidy, lanceolate deep green leaves and short, stocky upright stems lift a boundless sea of buoyant golden yellow daisy-style blooms with purplish cocoa- colored disks. Delighting song birds, pollinators and florists, clumping 'Viette's Little Suzy' can be tucked into meadows, perennial borders, cottage gardens or massed to make a flashy statement, while it triumphs over deer, poor dry soil and air pollution.
Blooms July–September
Size: 18"–2' 0" high x 18"–2' 0" wide; hardy to zone 3.
Rudbeckia fulgida var. speciosa 'Viette's Little Suzy' (P-2004)
Each $8.00
Add to Cart
Reminiscent of a bright French parasol, ample golden yellow petals are elegantly draped around large, pointed, purplish brown central cones that captivate finches, floral designers and gardeners alike. An exciting new Jelitto introduction selected from the native drought tolerant species, which inhabits the western Mississippi valley, 'Sundance' grows tall with hairy, straight steadfast stems in no need of staking. Good-sized and deep green, oblong basal leaves anchor the late blooming fiesta described by a single sunlit flower topping each stalk and a multitude of stalks.
Consider massing in a more natural landscape or nestling into the border with Poa cita and Aster 'Raydon's Favorite' for company.
Blooms August – October.
Size: 3' 0"–4' 0" high x 2' 0"–3' 0" wide; hardy to zone 5.
Rudbeckia grandiflora 'Sundance' (P-1583)
Each $7.75
Add to Cart
This Rudbeckia's sassy Dahlia-like mop of double lemon-yellow flowers promises to put a smile on your face. Perched atop wiry upstanding stems and handsome narrow-lobed green leaves, the shapely chartreuse-eyed daisies bloom for a long time, while creating a dramatic medium-sized counterpoint to Aconitum 'Bressingham Spire's vertical blue-violet shafts.
Blooms mid-July – September.
Size: 2-1/2'–3' 0" high x 2' 0" wide; hardy to zone 4.
Rudbeckia laciniata 'Goldquelle' (P-1552)
SOLD OUT!
Email me when this plant is available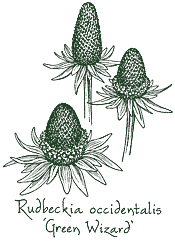 If you appreciate the curious, the unusual, the truly unique, then allow this novelty to work some magic in your garden. From a leafy green basal clump appear 3 to 5 in. wide flowers on sturdy stalks, each featuring a huge central chocolate brown boss encompassed by approximately ten large and stiff well-spaced bright green sepals.
Unparalleled as a cut flower fresh or dried, florists, gardeners and birds seek out these extraordinary blooms that first form an intriguing golden ring of pollen around their striking cones. Quick to establish and undemanding, this attention grabber guarantees a flashy display of neon color when paired with Kniphofia linearifolia and Salvia 'Limelight'.
Blooms July–September.
Size: 3' 0"–5' 0" high x 2-1/2' wide; hardy to zone 4.
Rudbeckia occidentalis 'Green Wizard' (P-1294)
Each $7.25
Add to Cart
Languid petals in lemon yellow shades lazily encircle prominent beehivelike, chartreuse cones during the idle days of summer. With rough surfaces and fuzzy undersides, the broad and deeply clefted green leaves attire sturdy clumping stems in an airy, opposite fashion. This Rudbeckia makes a sunny neighbor for Aster asperulus above our stone wall.
Blooms July–August.
Size: 3' 0"–4' 0" high x 2' 0" wide; hardy to zone 4.
Rudbeckia paniculata (P-1295)
SOLD OUT!
Email me when this plant is available
Sweet Coneflower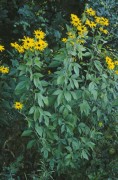 A Midwestern prairie girl that delivers outstanding flower power along with unwavering fortitude, this taller Black-Eyed Susan cousin is named for her anise-scented daisies. Radiant yellow petals surround purple-brown domed centers creating a buoyant sea of color all summer long. Perfectly branched for bouquets, the sturdy, straight-backed stems host toothed, deep green lush-looking leaves sporting downy undersides.
Blooms August–September.
Size: 4' 0" high x 2' 0" wide; hardy to zone 3.
Rudbeckia subtomentosa (P-1398)
Each $7.75
Add to Cart
Spangled with burgundy, bronze and reddish orange shades, irresistible legions of ebullient long blooming daisies parade dark chocolate centers and bicolor gold-tipped petals. At the base, large trilobed verdant leaves form a handsome bushy mass that gives way to upper, narrower leaves and openly branched, erect purple flowering stems.
A denizen of the Great Plains, this summertime showstopper is not as long-lived as other Rudbeckias; it eventually wears out, but easily reseeds.
Blooms July – mid-October.
Size: 3' 0"–4' 0" high x 15" wide; hardy to zone 3.
Rudbeckia triloba 'Prairie Glow' (P-1713)
Each $7.25
Add to Cart
Saturday Strolls & Plant Chats 2018!
Saturdays at 2 p.m. July 14th and 28th, August 18th, and September 15th. Stroll with Horticulturalist Deborah Whigham, sip iced tea, nibble on tasty snacks & take home helpful gardening tips & tricks!
Current Staff's Favorite Plant