Cinquefoil
Said to be useful in medicine and magic at least since the time of Hippocrates, the sun-loving Cinquefoil likes well drained soil and partial shade in hotter climates, obliges both cold and drought, and can be nestled into the rockery or atop a garden wall alongside Campanulas or Stachys.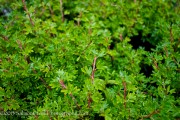 Delicate parchment-like 5-petaled flowers awash in hushed apricot pink hues and dainty thickset dark green leaves set this compact easily grown shrub apart. Promoting fine textured appeal, an attractive flood of small narrowly divided foliage garbs the versatile twiggy visage that makes an excellent hardy choice for low hedges, foundations or mixed borders. 'Apricot Whisper' can handle poor, sandy or gravel-strewn soil, but dislikes hot humid areas, and appreciates a midsummer trimming.
Blooms June–September.
Size: 2' 0" – 3' 0" high x 2' 0" wide.
Hardy to zone 3.