Catalog
Order the Catalog printed on genuine paper for $2.
Add to Cart
Digging Dog Nursery
a retail and mail order plant nursery specializing in unusual and hard to find perennials, ornamental grasses, shrubs, trees, and vines.
31101 Middle Ridge Rd.
Albion, CA 95410
phone:
(707) 937-1130
fax:
(707) 937-2480
Visit Us!
Summer Hours:
Wednesday–Saturday: 10am–4pm
Phormium (New Zealand Flax)
at Digging Dog
Including Phormium 'Jack Spratt'

Phormium
New Zealand Flax
View a slideshow of plant images from this genus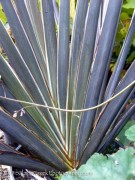 This upright moderately sized Flax sprouts sword-shaped blades the color of milk chocolate and bears the name of the late, acclaimed plantsman and nursery owner who brought it back from New Zealand. Heightened by delicate pink and cream margins, a channeled midrib and smoky olive green undersides, the scrumptious foliage is somewhat lax toward the tips, which either gracefully fall outward or arch downward.
A tranquil medley of dark yet muted hues and bold texture, 'Ed Carmen' combines well with Cistus 'Decumbens' and Correa 'Dusky Bells'.
Size: 2' 0"–3' 0" high x 2' 0"–3' 0" wide; hardy to zone 8.
Phormium 'Ed Carman' (P-1667)
SOLD OUT!
Email me when this plant is available
Dwarf New Zealand Flax
A handsome more diminutive character amid a family of mostly massive relatives, we're surmising this Phormium's "could eat no fat" stature inspired its nursery rhyme name. Mr. J. Burton of Hamilton, New Zealand selected little Jack for his tidy, fan-shaped evergreen clumps of twisting, ½ in. wide bronzed blades that first emerge olive-green then transmute to a reddish mocha color.
With year-round good looks, he is as stalwart as he is versatile, tolerating dry conditions, yet detesting heavy soils or being planted too deep. 'Jack Spratt' can be showcased in a small container, along a path or en masse superimposed against gray-leafed Stachys 'Helen Von Stein'.
Size: 12"–2' 0" high x 12"–2' 0" wide; hardy to zone 8.
Phormium 'Jack Spratt' (P-1462)
Each $9.00
Add to Cart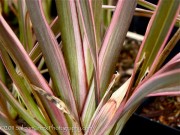 Olive-grey sword like leaves are rimmed with rosy-pink. This is small-to medium phormium, and is handsome in containers as a specimen or combined with silvers, plums, or any really dark foliage.
Size: 4' 0"–6' 0" high x 4' 0"–5' 0" wide; hardy to zone 8.
Phormium 'Pink Stripe' (P-1733)
SOLD OUT!
Email me when this plant is available
Current Staff's Favorite Plant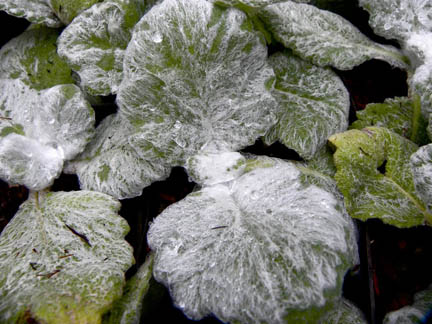 Customer Comment:
"I found Digging Dog in a gardening magazine and am so thrilled I did. I went to their website after reading about them and was so impressed I immediately placed an order ( after checking with Garden Watchdog of course !) My plants were delayed 3 weeks due to the hot weather. Each Monday someone from Digging Dog called, explained the situation and explained the delay. What service!! My plants arrived today happy healthy and good size. I could not be happier and will shop Digging Dog much in the future."
~F.L. in New Hampshire
view Digging Dog's comments with Dave's Garden (The Garden Watchdog)