Phlomis (Jerusalem Sage)
at Digging Dog
Including Phlomis anatolica, Phlomis cashmeriana, Phlomis fruticosa, Phlomis lanata, and Phlomis russeliana

Phlomis
Jerusalem Sage
Drought resistant and hardy, this genus belongs to the Mint family and includes about 100 perennials and subshrubs from the Mediterranean and western Asia. Well suited to our California climate, many of the species will thrive in warm, sunny sites and dry woodland edges.
Whorls of purple, pink or yellow flowers bloom in the summer, providing long lasting dry stems and flower clusters for decoration in the garden or kitchen.
View a slideshow of plant images from this genus
Brightened by white heavily veined undersides and light fuzzy stems, thick heart-shaped pewter green leaves craft a handsome flanneled appearance. Stiff swarthy stalks thrust upward, interspersed with large long lasting showy whorls of spicy scented helmet-like, rich yellow flowers. This rugged shrubby perennial develops a somewhat woody foundation over time, and always brings fulgent accents to hot exposed slopes, wind-swept seaside plantings or any other sharp-draining sunny locale.
Blooms June–September.
Size: 3' 0"–4' 0" high x 3' 0"–4' 0" wide; hardy to zone 7.
Phlomis anatolica 'Lloyd's Variety' (P-1627)
Each $8.00
Add to Cart
With a rugged constitution yet stately stature, this enduring Himalayan denizen spawns 12 in. long spade-shaped gray-green leaves that show off felted finishes, scalloped margins plus luminous silver undersides. Stout woolly stems shoulder the large whorled clusters of tubular lilac pink blooms above a soft looking bushy foundation. Adored by birds, bees and butterflies, Phlomis cashmeriana remains evergreen in milder climates, while appreciating proper air circulation, sunshine galore and sharp draining soil.
Blooms June-August
Size: 2' 0"–3' 0" high x 18"–2' 0" wide; hardy to zone 5.
Phlomis cashmeriana (P-0362)
Each $8.00
Add to Cart
Launched in 1967 by Hilliers, a celebrated British nursery that supposedly received the namesake's own garden seed, this grand hard-to-find Phlomis is an evergreen hybrid between Phlomis fruticosa and Phlomis russeliana. Commendable even on frosty winter mornings, the 6 to 10 in. tall spires are studded with large clustered snapdragon-like blooms composed of cream-colored hoods plus lemon-yellow lips. Daring spade-shaped green leaves, flashing felted finishes and silver undersides, attire staunch square upright stems beneath a colorful bumble-bee haven. Versatile, vigorous and dependable, deer-resistant 'Edward Bowles's can be added to mixed borders or water thrifty plantings.
Blooms June–early October
Size: 4' 0" high x 4' 0" wide; hardy to zone 7.
Phlomis 'Edward Bowles' (P-1892)
Each $8.00
Add to Cart
AVAILABLE LATE SPRING 2018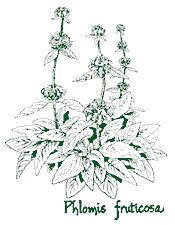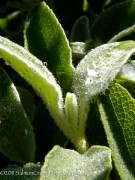 These bright yellow flowers bloom in a series of ball-like clusters known as verticillasters along stout stems and above felted, gray-green foliage. Used as a specimen or blended with Nepeta 'Walker's Low' or Wood Oats, Phlomis fruticosa will provide bold color and form.
Blooms June–August.
Size: 4' 0" high x 3' 0" wide; hardy to zone 6.
Phlomis fruticosa (P-0305)
Each $7.75
Add to Cart
A golden aura infuses the small gray-green woolly foliage of this soft-looking 2002 AGM winner. Endemic to Crete, long-lived Phlomis lanata sports yellow hooded flowers, rising in whorled widely spaced tiers above a low compact foundation that wards off deer, rabbits and drought. Its stalwart good looks can be intermingled with Mediterranean neighbors such as Rosemary, Rock Roses and Eryngiums.
Blooms June–September
Size: 2' 0" high x 3' 0" wide; hardy to zone 7.
Phlomis lanata (P-0118)
Each $7.75
Add to Cart
AVAILABLE SUMMER 2018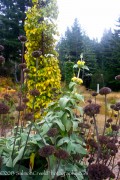 With architectural assertiveness, stout straight stems broadcast separate whorls of butter yellow hooded blooms. Maintaining a stalwart beauty throughout the winter, the stalks look equally impressive whether fresh or dried as they stand above large and broad, heart-shaped olive-green leaves. The fuzzy, scalloped foliage develops into a plush low growing, evergreen cover that keeps those pesky weeds at bay.
In our garden, Phlomis russeliana casts bold accents along a pathway, assorting with Aster 'Ringdove' and Molinias.
Blooms June–September.
Size: 3' 0" high x 2' 0" & spreading; hardy to zone 4.
Phlomis russeliana (P-1314)
Each $8.00
Add to Cart
AVAILABLE AUGUST 2018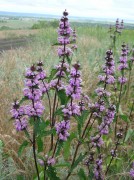 Named for the small tubers that grow from its roots, this selection is perhaps the most unusual of all. Fuzzy leaf stems and large green leaves with toothed margins give the plant a coarse texture that is softened by lilac blossoms with reddish calyxes and deep crimson flower stems. Such distinctive character mixes especially well with grasses and Lavenders.
Blooms June–August.
Size: 4' 0" high x 3' 0" wide; hardy to zone 6.
Phlomis tuberosa (P-0307)
Each $7.75
Add to Cart
With green arrow-shaped lush leaves, lustrous burgundy stalks and tiered wreaths of rosy lilac tubular flowers on statuesque stems, this well-mannered perennial adds dignity to the landscape. The toothed downy leaves compose a vigorous bushy base that's nearly evergreen in many locales and capable of handling drought.
Versatile and equally at home in a formal setting or a meadow planting, 'Amazone' can be staged amid Stachys 'Superba' and Salvia 'Amethyst' for a fantastic purple and pink mélange.
Blooms June – August.
Size: 4' 0"–5' 0" high x 2' 0"–3' 0" wide. 4/5
Phlomis tuberosa 'Amazone' (P-1710)
SOLD OUT!
Email me when this plant is available
Garden Conservancy Open Day at Digging Dog!
Saturday, June 23 - 10 a.m. to 5 p.m. Digging Deeper Ė Join Patricia Smyth, owner of Essence of the Tree, for a Japanese maple container demonstration. Enjoy a guided tour of the Private Gardens of Deborah Whigham and Gary Ratway, adjacent to Digging Dog Nursery in Albion, CA; free with $7.00 garden admission. Tickets are available via
this link
or at Digging Dog Nursery. Plant shopping welcome!
Mendocino Art Center (MAC) Garden Tour!
Saturday, June 30 - 10 a.m. to 5 p.m. We welcome you to join us in support of The Mendocino Art Center for this fabulous garden tour and fundraiser. Tickets are available through the MACís website.
Saturday Strolls & Plant Chats 2018!
Saturdays at 2 p.m. July 14th and 28th, August 18th, and September 15th. Stroll with Horticulturalist Deborah Whigham, sip iced tea, nibble on tasty snacks & take home helpful gardening tips & tricks!
Current Staff's Favorite Plant