Including Fuchsia, Galtonia, Gentian, Geranium, Gladiolus, & Geum
View a slideshow of plant images from this page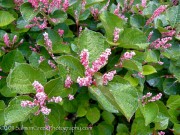 Don't let this species' humdrum name or slow start put you off. Although it emerges from the ground late in the spring, Fallopia japonica var. compacta reaches full height rather quickly.
Panicles of miniature white and pinkish red flowers, whose bicolored quality makes them sparkle, dress up the bushy visage. Rounded, ripple-edged and leathery, the attractive dark green leaves are held by crimson petioles, and furnish a brilliant yellow fanfare once the weather begins to cool.
Blooms late August–early October.
Size: 4' 0" high x 4' 0" wide.
Hardy to zone 4.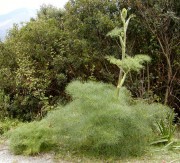 Set against a blue summer sky, this lofty Mediterranean treasure delivers an impressive dose of grandeur. The fantastic feathery dark green architecture consists of huge unscented thread-like leaves plus a thick towering, mauve-tinged glaucous flower stalk, crowned by gigantic branched yellow umbels. Appreciated since ancient Greek times when its dried stems may have been utilized as the original Olympic torch, Giant Fennel's robust semitransparent bearing is still relevant today as a back of the border specimen for sheltered well draining sites.
Blooms March-July
Size: 7' 0" – 8' 0" high x 2' 0" wide.
Hardy to zone 7.
Meadow Sweet
These hardy American perennials will satisfy your sweet tooth without making you pay a heavy price. In almost any garden soil, their foliage is full and dependable, enlivened by spraylike panicles of small flowers. Most prefer a moist well-drained setting and will happily linger at the edge of a pond.
Hailing from Chile, this lovely long blooming Saxifrage cousin generates evergreen basal clumps of large (up to a foot long) green foliage that is lobed, slightly hairy and ripple-edged. Petite starry white blossoms crowd onto erect, but gracefully poised, tall branching wands above the attractive spreading foundation. An undemanding coarsely textured perennial, Bridal Wreath yields fantastic cut flowers, sparkles up a woodsy border, revels in dappled light plus well-drained soil, but needs protection between 20 and 25 degrees.
Blooms mid July–early September
Size: 2' 0" – 3' 0" high x 18" – 2' 0" wide.
Zone 7/8.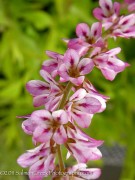 Let this long blooming carefree Chilean beauty dress up your garden. Starry, pretty pink flowers with lighter centers and a crimson brush stroke at each petal's base embellish terminal wands on tall, gracefully canting branched stems. The fit-for-a-bride floral splendor is perfect for arrangements and is grounded by a foot high dark green basal clump of large, succulentlike, stiff durable leaves that are evergreen and wavy-edged, preferring dappled shade or half a day's sun.
Blooms mid-July to early September
Size: 2' 0" – 3' 0" high x 18" wide.
Hardy to zone 7.
According to a French missionary in the early 1700s, the Brazilian name for Fuchsias was Molle cantu, or Bush of Beauty. These plants offer graceful habits and pendulous, tubular flowers that are richly colored. The following mite resistant varieties appreciate ample moisture.
Like dainty ballerinas, tubular crimson flowers abundantly dangle from branches cloaked in deep green comely leaves. Esteemed for its verdant bushy form, which grows with amazing vigor and frost tolerance, this interspecific cross between Fuchsia campos-portoi and Fuchsia magellanica was bred by Peter Baye. 'Campo Thilco's lovely demeanor can be coupled with Salvia 'Limelight', and due to an abundance of rhizomes, its numerous basal shoots should be pruned hard each spring.
Blooms June–October.
Size: 3' 0" – 6' 0" high x 4' 0" wide.
Zone 6/7.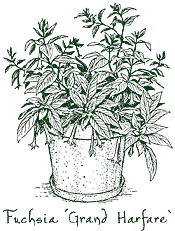 Don Mahoney from Strybing Arboretum kindly gave us this airy, multistemmed Fuchsia whose branches are first upright, and then elegantly arch over. Accentuated by wine-colored petioles and stems, the gleaming and darkly green, veined leaves stage 'Grand Harfare's spectacular pendant blooms. The glossy, 3 in., thick-walled tubes are colored in dazzling orange-scarlet shades and embellished with decorative, wide-open bases. This cloud-forest species appreciates constant soil moisture, some humidity and winter protection.
Blooms October–April.
Size: 2' 0" – 4' 0" high x 3' 0" – 4' 0" wide.
Hardy to zone 8.
Summer Hyacinth
The most enduring trophy of Francis Galton, an explorer and authority on Southwest Africa, may be the summer Hyacinth, which blooms when so many perennials are past their prime. These bulb-forming plants are happiest in rich, well drained soil and need moderate water in the summer.
Each $7.75
AVAILABLE MID SEPTEMBER 2018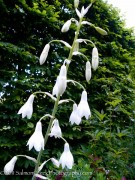 With dark green, straplike leaves and spikes of fragrant, drooping, funnel-shaped white flowers perched on 4 ft. stems, this species is undeniably dramatic. Create your own theater by planting it amidst darker, shade tolerant plants, under a high woodland canopy.
Blooms August–September.
Size: 4' 0" high x 12" wide.
Zone 6/7.
A moist cliff dweller from the lower altitudes of the Drakensberg Mountains, this Galtonia's blooms have an airy effect. Up to thirty waxed and creamy green tubular flowers with light green, central bands extend out from the stem and then look downward at varied angles. Anchored by erect, green basal straps, the pale, delicate blooms loosely dress its broad floral pillars.
Blooms August–September.
Size: 4' 0" – 5' 0" high x 12" wide.
Hardy to zone 8.
Each $7.75
AVAILABLE MID SEPTEMBER 2018
Named for its unusual lime-green flowers, which bloom earlier than those of Galtonia candicans, this species can accent the color and texture of Campanula 'Kent Belle'.
Blooms July–August.
Size: 3' 0" high x 12" wide.
Hardy to zone 7.
A genus of North American natives in the Evening Primrose family, the Onagraceae.
Gentian
Truly beguiling, our Gentian selections display tubular flowers, colored in some of the most dazzling shades of blue imaginable. Once good drainage and a cool position are provided, these low spreading beauties are relatively undemanding.
A loose, handsome base of shiny, long and narrow, deep green leaves gives way to lax flowering stems, each enhanced with bouquets of white-throated, darkly blue blooms, borne at the leaf axils and crowning the very tips. Once good drainage and a cool position are provided, this low spreading beauty is relatively undemanding.
Blooms July–August.
Size: 12" high x 12" wide.
Hardy to zone 4.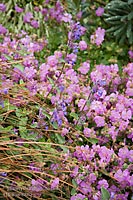 Cranesbill
We're talking about hardy Geraniums, not the better-known, anything-but-subtle Pelargoniums. True Geraniums are sturdy yet refined, with five-petaled flowers borne on dainty stems close to the palmately-divided leaves.
Their spectrum of colors, from cool to electric, is rivaled only by their ability to create soft mounds and flowing carpets of lush foliage in ordinary garden soil. We plant a succession of varieties to always have some in bloom from spring to fall. Our selections are easily grown and will rebloom after flowering if lightly trimmed. Most die back in winter.
Grecian Rose
The Greek name for this genus, which means "to give a taste of," only hints at the flavor of happiness it brings to our garden. The cheerful flowers are held on sturdy stems above basal clumps of fuzzy leaves. Given good drainage and ample moisture, these robust perennials thrive with minimal care.
Sword Lily
These are not the easily obtainable hybrids—you can find those elsewhere. The beauty of our native South African selections comes from the handsome sword-shaped leaves and spikes of unfussy, often flaring blooms.
Belonging to the Iridaceae family, Gladioli have long been associated with strength of character, and we think its strongly upright, yet graceful presence can fashion an intriguing see-through veil for any border. Place them in a well drained site and, after the bloom is over, support strong corm development by reducing water and trimming the stems to just beneath the lowest flowers. Provide winter protection in colder areas.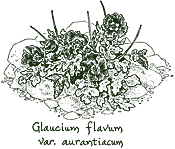 From the sandy dunes of England and the Mediterranean, the Horned Poppy delivers an enticing blue-green rosette. Unusual elongated linear seed pods evoke its common name and add intrigue to the deeply cut, wavy-edged, fuzzy leaves. Painting an ardent contrast, burnt orange, poppy-like blooms with delicate gleaming petals and central tufts of peach-colored stamens are borne singularly on long branching stems.
A lover of lean and dry, well drained soil especially in winter, this "triennial" or perennial is well suited for a natural-looking garden with other seaside inhabitants like Erigeron glaucus 'Ron's Pink' or Euphorbia myrsinites.
Blooms May–August.
Size: 18" high x 18" wide.
Zone 5/6.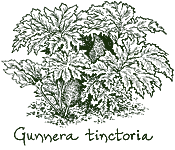 Everything about this amazing Chilean native is BIG! A super-sized perennial of prehistoric-looking, gargantuan magnitude, Gunnera tinctoria projects a bold, dignified persona.
Palmately lobed leaves with toothed and frilled margins unfurl to 5 ft. across atop thick edible stalks that emerge from underground rhizomes, rich in tannins. Launching a large cob-shaped inflorescence inhabited by tiny rusty red flowers, the enormous domed mound adds sheer mass and a coarse stiff texture to the landscape.
Although the Chilean Rhubarb sulks in high summer humidity, it is undemanding and quick to establish in moist areas, given A LOT of room and winter protection for the crowns.
Blooms September–October.
Size: 8' 0" high x 8' 0" wide.
Hardy to zone 7.