Pennisetum (Fountain Grass)
at Digging Dog
Including Pennisetum alopecuroides, Pennisetum massaicum, Pennisetum orientale, and Pennisetum spathiolatum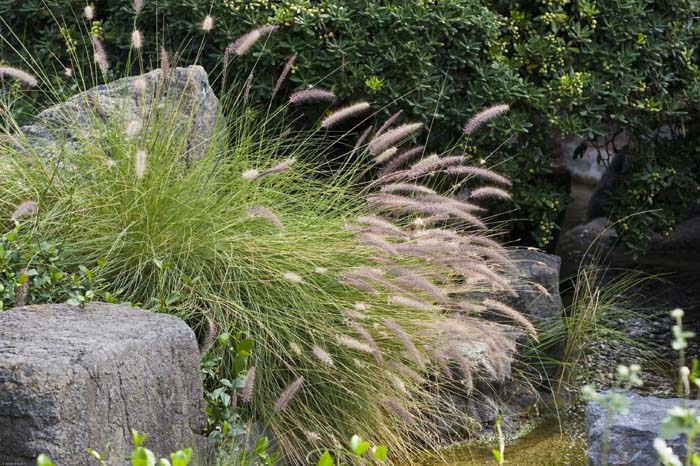 photo: aehack
Pennisetum
Fountain Grass
The soft inflorescences take their name from the Latin words penna and seta meaning feather-bristle. This lovely grass is a favorite, distinguished by arching, feathery bottlebrush flowers spilling over a cascading mound of foliage.
A warm season grower, Fountain Grass welcomes hot weather and is widely distributed in both tropical and temperate areas.
View a slideshow of plant images from this genus
Standing taller than most alopecuroides species, this spectacular Kurt Bluemel selection has a lot to brag about beside its inherent good looks: no stray seedlings, exceptional vigor and reliable longevity. Narrow green foliage defines the large upright fountain-shaped clump that's topped with a fluffy 5 ft. high gathering of tan-colored plumes. Aptly named, 'Foxtrot' dances to the slightest breeze amid late blooming perennial cohorts such as Phlox 'Jeana', Heliopsis 'Summer Nights' and Gaura 'White Heron'.
Blooms late July-October
Size: 5' 0" high x 4' 0" wide; hardy to zone 5.
Pennisetum alopecuroides 'Foxtrot' (G-0550)
Each $8.75
Add to Cart
Honoring German horticulturist Cassian Schmidt, this graceful midsized Kurt Bluemel selection sparks our interest through 3 seasons. Its compact fluid form sets the stage for fawn-colored bristle-like cylinders that softly linger just above elegant foliar blades. In a grand finale of arresting warmth, the autumnal leaves celebrate lavish gilded highlights and red hues, which earn 'Cassian' a front row seat in our mixed border.
Blooms August–October.
Size: 3' 0" high x 2-1/2'–3' 0" wide; hardy to zone 6.
Pennisetum alopecuroides 'Cassian' (G-0487)
Each $8.75
Add to Cart
Dwarf Fountain Grass
Its compact habit and finely textured foliage make this one of the most popular Pennisetum cultivars. More darkly hued than most Pennisetum alopecuroides, the foliar mound is very upright and dome-shaped, playing host to the plump, slightly curved and creamy green flower heads that arch at least a foot aloft. Alighting on wiry slender stems held by fanlike sheaves, the fuzzy inflorescences bloom earlier than the species.
To heighten the garden drama, let 'Hameln' anchor a riot of Asters and Nepetas.
Blooms late July – October.
Size: 2' 0"–2-1/2' high x 2-1/2' wide; hardy to zone 6.
Pennisetum alopecuroides 'Hameln' (G-0465)
Each $8.75
Add to Cart
Black Fountain Grass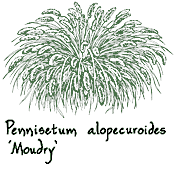 Flowing with deep green, fairly wide, glossy foliage, 'Moudry' forms a burnished, tidy-looking basal mound. The showy cylindrical spikes resemble large dense foxtails, as they arise on stiff stalks just above lush deciduous leaves, which color to yellow and orange come autumn.
Unparalleled among other ornamental grasses, the phenomenal fuzzy blooms impart dark purple-black shades, and make excellent cut flowers, fresh or dried. Introduced by the National Arboretum from a batch of Japanese seeds, fall blooming Black Fountain Grass is indispensable for its late season appeal in the mixed border.
Blooms September–November.
Size: 2' 0" high x 2' 0"–2-1/2' wide; hardy to zone 6.
Pennisetum alopecuroides 'Moudry' (G-0453)
Each $8.75
Add to Cart
If you are looking for a perfectly sized Pennisetum that's loaded with fluffy blooms and doesn't require much care, this new cultivar may be your answer. Though 'Piglet' is small statured, about half the size of Pennisetum 'Hameln', it's certainly not the runt of the litter, growing taller and more substantial than 'Little Bunny'.
Easy to tuck into a tight, well drained space amid Asters and Astrantia 'Buckland', it's long lived, fine textured green foliage supports a light-as-air profusion of tawny-colored cylindrical blooms. (pp#19,074)
Blooms August – October.
Size: 18" high x 18"–2' 0" wide. 5/6
Pennisetum alopecuroides 'Piglet' (G-0516)
Each $8.75
Add to Cart
Selected by Intrinsic Perennials' owner, Brent Horvath, 'Red Head' bolsters wondrous quantities of deep purple buds and huge, furry bottlebrush-like muted violet plumes, some 9 in. long and 3 in. wide. The stylish long lasting inflorescences appear earlier than most alopecuroides above a rounded arching green fountain. Projecting a tailored appearance throughout the season, which brightens autumn with golden yellow hues, this Pennisetum 'National Arboretum' offspring can be planted in drifts for kinetic drama or utilized as a marvelous color-rich specimen amid perennials.
Blooms September–November
Size: 4' 0" high x 4' 0" wide; hardy to zone 5.
Pennisetum alopecuroides 'Red Head' (G-0566)
Each $8.75
Add to Cart
Described by a definitive architectural silhouette, this possible Pennisetum incomptum seedling sprung up in the Pomona Nursery of noted grass enthusiast, John Greenlee. Erect, light pink tapering 'tails' on upright stems attain delightful deep wheat colors when mature, appearing somewhat denser and not as airy as other Pennisetum species.
The attractive semievergreen clump of refined gray-green blades withstands both heat and drought, and brings strong vertical elements to Stipa gigantea's more relaxed habit and a low growing drift of Sesleria 'John Greenlee'. (PPAF)
Blooms June–October.
Size: 3' 0"–5' 0" high x 2' 0"–3' 0" wide. 7/8
Pennisetum 'Fairy Tails' (G-0523)
Each $8.75
Add to Cart
Red Button Fountain Grass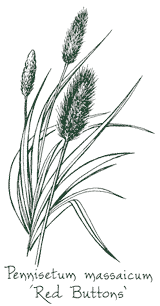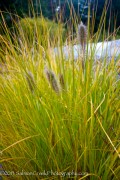 The species inhabits the wide open savannas of Africa, and this distinctive red flowered cultivar will flourish in your garden, given a well-drained sunny locale. Waving bushy, warm-colored inflorescences that eventually lighten to a creamy tan, the delicate slender stems rise high above graceful mounds of broad maroon-tinted green blades. Long-blooming 'Red Buttons' can be featured as a stellar addition to floral arrangements, as a container subject or a mixed border specimen, abiding hot dry conditions, but not terribly cold winters.
Blooms July – September.
Size: 2' 0"–3' 0" high x 2' 0"–3' 0" wide; hardy to zone 7.
Pennisetum massaicum 'Red Buttons' (G-0510)
Each $8.75
Add to Cart
Orient Fountain Grass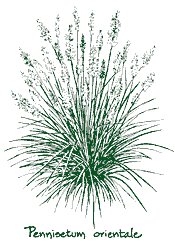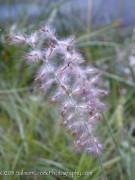 A dense, rounded clump of narrow arching leaves explodes into long blooming, fuzzy, copper-pink flower spikes, exquisite in large drifts or contrasted with broad-leafed perennials, like Helenium 'Zimbelstern'. Backlight this grass and enjoy a fountain of color and youth.
Blooms June–October.
Size: 12"–2' 0" high x 2' 0" wide; hardy to zone 6.
Pennisetum orientale (G-0023)
Each $8.75
Add to Cart
Giant Fountain Grass

Vigorous and heat-loving, and much larger than the species, this bushy Pakistani cultivar has a 3 to 4 ft. vase-like clump of green foliage, with wonderfully whitish "tails" touched by a muted pink ascending a full foot higher. Giant Fountain Grass makes a compelling ingredient in the mixed border, especially with tall Achilleas and Angelica gigas nearby. .
Blooms June–October.
Size: 5-1/2' high x 3' 0" wide; hardy to zone 6.
Pennisetum orientale 'Tall Tails' (G-0093)
SOLD OUT!
Email me when this plant is available
Slender Veldt Grass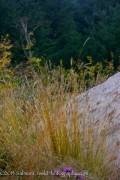 A denizen of South Africa, this drought tolerant evergreen grass has low growing, narrow dark green blades that provide a verdant contrast to its tawny colored tapers. The dense, abundantly produced inflorescences hover on jointed nearly invisible stems, some 2 to 3 ft. tall, while fashioning a delightful see-through veil.
Especially mesmerizing when grouped in a dry creek bed, a meadow or a water wise garden, the Slender Veldt Grass asks only for a well drained abode.
Blooms June – October.
Size: 3' 0"–4-1/2' high x 2' 0" wide. 6/7
Pennisetum spathiolatum (G-0511)
Each $8.75
Add to Cart
Saturday Strolls & Plant Chats 2018!
Saturdays at 2 p.m. July 14th and 28th, August 18th, and September 15th. Stroll with Horticulturalist Deborah Whigham, sip iced tea, nibble on tasty snacks & take home helpful gardening tips & tricks!
Current Staff's Favorite Plant