Origanum (Oregano)
at Digging Dog
Including Origanum varieties Santa Cruz, Kent Beauty, Bristol Cross, Amethyst Falls, and Ed Carman

Origanum
Oregano
The Greeks called this ancient herb oros ganos, meaning "joy of the mountain," and legend has it that Aphrodite created the sweet, spicy scent of its leaves as a symbol of happiness. A sun-loving genus hailing from the Mediterranean, Origanums display small, tubular, whorled flowers often arranged in showy overlapping bracts, and prefer well drained soil.
Esteemed plantsman and Bluebird Nursery owner Harlan Hamernik selected this Origanum for its exceptional floral detail. Aromatic, glaucous green-gray leaves compile a shapely drought resistant bed that unleashes large pendant sprays distinguished by extravagant quantities of layered chartreuse bracts and small, protruding vivid amethyst flowers.
Delivering an unparalleled, several month showing, the rotund conelike blooms can be left to promote winter hardiness, and staged in a container or easy-to-see spot with a sunny southwestern exposure and quick draining soil. (PPAF)
Blooms August – October.
Size: 15" high x 18" wide; hardy to zone 5.
Origanum x 'Amethyst Falls' (P-1464)
Each $7.50
Add to Cart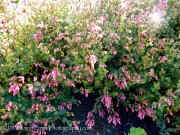 Assuming an air of refinement, the very slender blooms feature small, deep rose and chartreuse bracts that resemble decorative braids. Tipped with tiny purple flowers, the clustered bracts are held at nearly right angles to upright and reddish leafy stems. Grounded by medium green foliage, this long lasting, delicate floral display casts earthy yet saturated hues in the border or an arrangement.
Blooms August–October.
Size: 6"–8" high x 18" wide; hardy to zone 6.
Origanum 'Bristol Cross' (P-1277)
Each $7.50
Add to Cart
AVAILABLE SUMMER 2018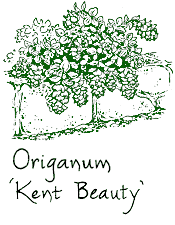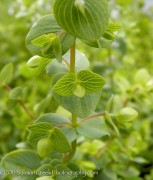 While quite dainty, Elizabeth Strangman's lovely hybrid actually appreciates hot, dry conditions. If this isn't enough to recommend it, 'Kent Beauty' produces a plethora of rosy, plump bracts—some 2 to 3 in. long—that resemble Hops and are prized by those who love dried arranging. Rounded and paired, the inch-long, blue-green leaves clasp trailing, wiry, wine-tinted stems.
This compact Origanum is a natural atop a stone wall, where its pendulous blooms and intriguing foliage may be displayed to fine effect.
Blooms August–October.
Size: 8" high x 12" wide; hardy to zone 6.
Origanum 'Kent Beauty' (P-1080)
Each $7.50
Add to Cart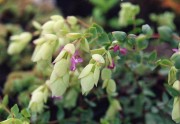 Embellished by small rose-pink flowers, droves of stacked, overlapping pale green and blush-colored bracts look like slender papery ornaments. Exceptional in dried arrangements, these large decorative blooms hang from the tips of long, wiry, arching stems, loosely lined with smooth, nearly round, green leaves. A little more upright and more open than 'Kent Beauty', this captivating Origanum deserves a spot where it can be easily cherished.
Blooms August–October.
Size: 12" high x 18" wide; hardy to zone 6.
Origanum libanoticum (P-1220)
Each $7.50
Add to Cart
Legions of compact Hop-styled dusky rose-colored bracts—festooned by tiny pink flowers and ideal for drying—reside at the ends of narrow pendulous stems. Exhibiting opposite, rounded green leaves and a form that is similar to Origanum 'Santa Cruz', but is smaller statured and not as spreading, this adorable Origanum comes to us from Oregon's Goodwin Creek Gardens.
Blooms July – September.
Size: 12" high x 12"–15" wide; hardy to zone 7.
Origanum 'Lizzie's Hybrid #2' (P-1619)
SOLD OUT!
Email me when this plant is available
In wintertime, the rounded evergreen leaves entertain plum-colored accents and tiny silver hairs while slowly spreading close to the ground. Come summer, stiff, violet-tinged leafy stems elevate large, long blooming rosy flower clusters that entice bees and butterflies. A new, sure-to-please Dutch selection, this Origanum's spicy scented foliage makes a tidy deep green foil for maroon buds and ornamental dark pink blooms tended by rich purple calyxes.
Blooms August – October.
Size: 15"–18" high x 15" wide. 5/6
Origanum 'Rosenkuppel' (P-1463)
Each $7.50
Add to Cart
Antique-toned, dusty rose-colored, Hop-like flowers, much larger than those of 'Ed Carmen', are offset by bright green calyxes and pile up all summer on bran-ched red stems. For a pleasing fusion of color, try it with Penstemon 'Blackbird' and Muhlenbergia capillaris.
Blooms July–September.
Size: 18"–2' 0" high x 3' 0" wide; hardy to zone 5.
Origanum 'Santa Cruz' (P-0709)
Each $7.50
Add to Cart
We collected this exceptionally floriferous form of vulgare at Ed Carmen's nursery and named it in his honor. Multitudes of deep pink blooms and striking, dark purple bracts are held atop sinuous, leafy flower stems some 2-½ ft. above the bluish green mound of basal foliage. To create a harmonious melding of purple and blue, let it sprawl beside a path with Nepeta 'Walker's Low', Euphorbia 'Dean's Hybrid' and Aster 'Bill's Big Blue'.
Blooms August–October.
Size: 2-1/2'–3' 0" high x 3' 0" wide; hardy to zone 5.
Origanum vulgare 'Ed Carman' (P-0620)
Each $7.50
Add to Cart
Current Staff's Favorite Plant