Chillin' in Autumn 2018!
Digging Dog Nursery's Chillin' in Autumn sale is here!
Purchase a minimum of $100.00 in plants, and receive a 15% discount! Mention code: "Chillin' in Autumn 2018" in the customer comments section of our online order form, and we will deduct the sale discount when we confirm your shipping date. All plants must be in stock, and ship by November 6, 2018 to qualify for the discount.
You can also purchase a $100 Gift Certificate for 15% off, which means $100.00 worth of plants for only $85.00 (They make fantastic presents - don't forget one for yourself!) Mention code "Chillin' in Autumn 2018" in the customer comments section of the order confirmation page to receive the discount. Don't worry, we'll deduct the sale discount when we download your order.
Digging Dog's Late October Newsletter is on it's way to your inbox!
Meadow-style perennials, Chillin' in Autumn Sale, Lively late season plants!
Pollinator-friendly Meadow-style perennials.... If you're tired of conventional borders or landscapes, you may enjoy the more relaxed look of a natural planting or stylized meadow. Allowing swaths of grasses and perennials to gracefully intermingle, this type of garden becomes a colorful tapestry, celebrating nature, pollinators and the changing seasons in a sustainable fashion. Featured above are a few of our favorite long-blooming, meadow-style perennials. They offer a varied array of prismatic pollinator-friendly late summer or autumn blooms, plus in some instances produce attractive seed heads that nourish the birds as well as richly-hued stems and intriguing structure.
Lively late season plants.... Here at Digging Dog, we haven't had any frost yet, but over an inch of welcome rain has fallen. Marked by chilly nights and much shorter days, Autumn is definitely settling in with berries, seed heads, changing foliage and fleeting flowers. Below you'll find some of the plants that sparked my interest while Boobah and I were recently walking around the nursery and surrounding garden. The late season pristine-looking blooms of Gaura 'So White', Tricyrtis's ornate blue-violet flowers, plus the blue blossoms of both Aconitum and Salvia uliginosa, all provide an arresting counterpoint to the warm-colored leaves of deciduous trees. This time of year allows the plants with interesting foliage to come to the forefront and grab your attention. All of us at Digging Dog hope that you're able to pour a warm beverage and stroll through your garden, enjoying the autumnal beauty. Happy Digging!
Digging Dog's Late October 2018 Newsletter Link
Current Staff's Favorite Plant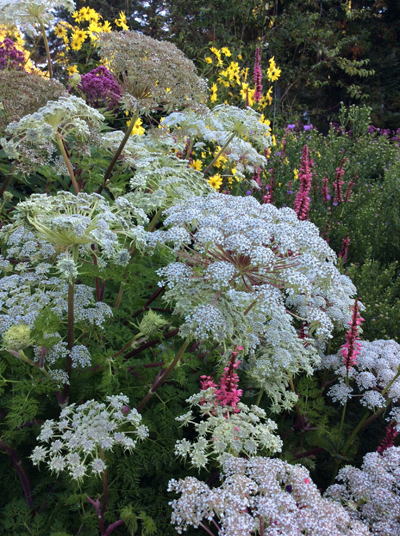 Helianthus 'Sheila's Sunshine', Persicaria 'Summer Dance', and Selinum wallichianum
Helianthus 'Sheila's Sunshine - P-0461
The sunflower was once an emblem of the Sun God of the Incas. Our sunflowers tolerate a wide range of garden soils, attract bees, and make great cut flowers. Blooms early August – October.
Persicaria 'Summer Dance' - P-1312
With foliage that's close to lime-green, and spiky floral tails that approach the scarlet spectrum of rosy pink, this slow spreading perennial is sure to please. Happiest in semishade with ample moisture. Blooms August–November.
Selinum wallichianum - P-1406
This refined Himalayan beauty happens to be one of our favorite perennial umbellifers. With untold elegance, infinitely divided leaves craft a delicate, lacelike transparency. The compact yet airy green canopy is framed by distinctive, purple-infused branching stems that elevate a charming, late season display of white flattened umbels.
Subduing the riotous array of summertime blooms, it seldom needs staking, and appreciates a well draining moist niche. Blooms June–August.
Please fill out our Registration Form to receive news of updates to the web site, availability of new plants, give us your feedback, and to be on the mailing list to receive future printed catalogs.