Monarda (Wild Bergamot/Beebalm)
at Digging Dog
Including Monarda bradburiana, Monarda didyma, and Monarda punctata

Monarda
Wild Bergamot/Beebalm
This genus was named after Dr. Nicolas Monardes, a Spanish physician whose Joyfull Newes Out of the New Founde Worlde was the first book to be published about the flora of the Americas. A summer blooming member of the Mint family, everything about this plant is intriguing.
Excellent in arrangements, its jaunty whorls of Sage-like blossoms and decorative bracts attract butterflies and hummingbirds while holding our interest even in winter. Lining erect and robust stems, its opposite leaves are deliciously scented.
An engaging addition to the border or a meadow setting, Bergamot offers a pleasing contrast to the more undefined forms of the garden, as well as to the linear aspect of grasses. Happiest in moist, fertile soil, Monarda's dense clump needs to be divided every 2 to 3 years. The following cultivars exhibit excellent resistance to powdery mildew.
Zone 3/4.
A central U.S. inhabitant, this superlative small-statured Monarda champions some admirable traits: early blooming flowers, deer and mildew resistance plus a well-behaved slow spreading habit. Short steadfast stems forge a clump characterized by spiffy grayish green-scented foliage and grand dense pinkish lavender globes of purple speckled two-lipped flowers, which reside upon violet-infused leafy bracts. Captivating bees and butterflies, the festooned flowers sustain their intrigue as they morph into dried seed heads.
Blooms May–July
Size: 12"–2' 0" high x 12"–2' 0" wide; hardy to zone 4.
Monarda bradburiana (P-1889)
Each $7.75
Add to Cart
AVAILABLE JULY 2018
Celebrating a sassy mop of brilliant coral pink blooms, this new must-have selection comes from the Morden Breeding Program in Manitoba, Canada. 'Coral Reef's whorled Salvia-like flowers sport prominent green centers and green bracts, while its tidy, more compact habit is similar to 'Marshall's Delight'.
Slightly polished dark green foliage sets off the hot floral presentation that can be sprinkled near Penstemon 'Blue Midnight' and Eryngium 'Big Blue' for an energetic combination. (pp#16,741)
Blooms June – August.
Size: 2-1/2'–3' 0" high x 15" wide. 3/4
Monarda x 'Coral Reef' (P-1661)
SOLD OUT
Email me when this plant is available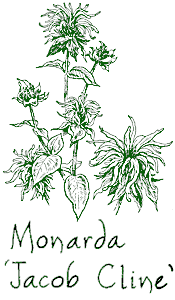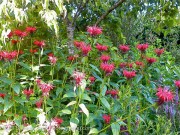 Deemed by many gardeners to be "the best red," this showy Monarda was discovered way down south growing along Georgia's Blue Ridge Parkway. Cloaked in rich dark green leaves, its tall sturdy stems stage a blazon display of large, red, tufted flowers poised on dark maroon leafy bracts.
Blooms late June–September.
Size: 4' 0"–5' 0" high x 15" wide. 3/4
Monarda didyma 'Jacob Cline' (P-1126)
Each $7.75
Add to Cart
Developed by an agricultural breeding program in Morden, Manitoba, this exceptional new introduction volunteers plenty of large, shaggy vivid-hued fuchsia-purple blooms above a midsized highly mildew-resistant foundation. The nectar-rich, perfect-for-cutting flowers entice all sorts of pollinators, while attractive pointed dark green leaves waft a mint aroma. Best grown in fertile moisture-retentive soil, 'Grand Marshall' can grace a perennial border, cottage garden or meadow-like planting with Phlox and Molinia. (PP#19,582)
Blooms June–August
Size: 2' 0"–2-1/2' high x 10"–15" wide; hardy to zone 3.
Monarda didyma 'Grand Marshall' (P-1943)
Each $7.75
Add to Cart
AVAILABLE AUGUST 2018
Spotted Horsemint
Pollinators flock by the droves to the unique, painterly whorled rosettes of yellowish, purple-speckled tubular flowers and large, pointed pale mauve and pink leaf-like bracts, adorning dense elongated spikes. Indigenous to the eastern U.S. from Long Island to Florida, Spotted Horsemint is an upright multistemmed perennial with sturdy violet-tinged stalks and toothed, tea-worthy oblong leaves that smell like oregano. This marvelous deer-resistant native lends showy accents to bouquets, borders and butterfly gardens, where it craves sharp draining sandy soil plus good air circulation and generally reseeds since it may be somewhat short-lived.
Blooms jJune–August
Size: 3' 0" high x 18"–2' 0" wide; hardy to zone 4.
Monarda punctata (P-0261)
Each $7.75
Add to Cart
Selected from a patch of didyma seedlings, this richly hued 2009 introduction by David Nedvect of the Flower Factory reflects his fondness for roosters. 'Purple Rooster' clearly lives up to its name, strutting large long blooming flowers bathed in the truest royal purple shades imaginable. The hard-to-beat floral splendor holds court atop staunch stems that are lined with clean mildew-resistant, mint-scented foliage.
Blooms June-August
Size: 3' 0" high x 18"–2' 0" wide; hardy to zone 4.
Monarda 'Purple Rooster' (P-1850)
Each $7.75
Add to Cart
Awarded top honors at a recent Chicago Botanical Garden trial that included nearly 40 other Monarda varieties, 'Raspberry Wine' will be a winner in your garden as well. Its upright stand of strong leafy stems gives way to long blooming flowers flaunting fanciful tops, each delicately perfumed and saturated with vibrant wine-red hues.
Blooms June – August.
Size: 2-1/2'–3' 0" high x 15" wide. 3/4
Monarda 'Raspberry Wine' (P-1600)
Each $7.75
Add to Cart
Crowning red-tinged bracts, this Monarda's vivid lavender-violet flowers will reign in your garden. Its downy soft, grayish green foliage makes a pleasing, fragrant base for the colorful and curved, tubular blooms.
Blooms June – August.
Size: 2-1/2'–3' 0" high x 15" wide. 3/4
Monarda x 'Violet Queen' (P-1128)
SOLD OUT!
Email me when this plant is available
Saturday Strolls & Plant Chats 2018!
Saturdays at 2 p.m. July 14th and 28th, August 18th, and September 15th. Stroll with Horticulturalist Deborah Whigham, sip iced tea, nibble on tasty snacks & take home helpful gardening tips & tricks!
Current Staff's Favorite Plant